Recruitment Policies in IKEA
Info: 5423 words (22 pages) Essay
Published: 13th Sep 2017 in Business
Scenario:
Human, physical, technological and financial resources are at the core of every organisation. The efficient management of these resources enable organisations to achieve their objectives. Also, for an organisation to survive, its finances need to be sound and secure, and the level of an organisation's performance can be seen in its financial statements. A poor management of resources can have a negative impact on an organisation's performance.
You just been appointed as HR manager of newly opened IKEA in London and as part of your role, you have to recruit 7 sales assistants, undertake the following tasks in relation to the above:
1. Describe the recruitment documentation used in Ikea.
2. Describe the main employability, personal and communication skills required when applying for the job role of Sales Assistant in Ikea.
3. Describe the main physical and technological resources required in the operation of Ikea.
4. Describe sources of internal and external finance for the business of Ikea
5. Interpret the contents of a trading and profit and loss account and balance sheet for Ikea
6. Illustrate the use of budgets as a means of exercising financial control of Ikea.
7. Illustrate the financial state of Ikea.
Summary of the unit:
Business resources encompass different types of resources like human resources, financial, technological and physical. Proper human resources team can bring a good result in achieving a company's objective and success. In terms of financial management and financial control, is playing an important role in establishing a company. Besides this, business plan will assist and guide to where a company will go in present and in future. Overall, a good combination of business resources will bring success for any establishment of business.
Introduction and Background of the organisation, companies or businesses:Â  – IKEA
Introduction
IKEA is a private and known home furnishing company. Also it is an international home products retailer that sells flat pack furniture, accessories and kitchen items in their retail stores around the world. Mainly this company is pioneer in flat pack design furniture at affordable prices, is now the world's largest furniture retailer. There are main chains of IKEA. The chain has 301 stores in 37 countries, most of them in Europe, North America, Asia and Australia.
Background
IKEA was founded in 1943 by 17 year old Ingvar Kamprad in Sweden and it is owned by a Dutch registered foundation controlled by the Kamprad family. The name IKEA comes from the initials of Ingvar Kamprad, I and K, plus the first letters of Elmtaryd and Agunnaryd, which are the names of the farm and village where he grew up.
The headquarters of IKEA is in Netherlands. IKEA owns and operates 384 stores in 48 countries.
IKEA's mission, vision and purposes:
IKEA's main passion to work hard to achieve quality at affordable prices for the customers through optimising the entire value chain, by building long-term supplier relationships, investing in highly automated production and producing large volumes. The vision of IKEA also goes beyond home furnishing. They want to create a better thing for all people from this business.
Mission:
IKEA's mission is to offer a wide range of home furnishing items of good design and function, excellent quality and durability, at prices so low that the majority of people can afford to buy them.
Vision:
The IKEA vision is the foundation for its growth strategy. "to create a better everyday life for the many people." To meet this vision IKEA provides many well designed and functional product for the home.
Objectives:
IKEA's business strategy focuses on growth in three main areas:
Quality products at low prices through its unique design processes
A sustainable future through its people and planet positive approach
Also co-workers are essential in growth strategy
Size of Business:
In the IKEA Group, they have 328 stores in 28 countries (as of 31 August, 2015). Products range is about 9500. Around 1,002 home furnishing suppliers in 51 countries. 59% of IKEA production is in Europe.  Only in Europe there are 222 stores.
Excluding the stores, at the end of FY15 they had 27 Trading Service Offices in 23 countries, 33 Distri­bution Centres and 15 Customer Distribution Centres in 17 coun­tries, and 43 IKEA Industry pro­duction units in 11 countries.
Corporate Structure:
The IKEA corporate structure is divided into two main parts: operations and franchising. Most of IKEA's furniture, including the management of majority stores, the design and manufacture, purchasing and supply functions are overseen by INGKA holdings. Group franchises the IKEA retail system from Inter IKEA Systems B.V. in the Netherlands. Inter IKEA Systems B.V. is the owner of the IKEA Concept and the worldwide IKEA franchisor.
The IKEA Group of companies (INGKA Holding B.V. and its controlled entities) has an ownership structure that ensures independence and a long-term approach.
The IKEA Group operates throughout the whole value chain from range strategy and product development to production, distribution and retails.
IKEA Group of companies
Stakeholders:
The key stakeholders in a company impacted positive or negatively. As IKEA is not a primary sector organization but it needs raw materials to develop its products. Hence primary sector suppliers, manufacturer for secondary sector are the stakeholders of IKEA. The key stakeholder's of IKEA are the customers and employees, both are considered main stakeholders. Besides this, suppliers, internal employees, trade union, managers, owners, shareholders play an important role.
Type of ownership
IKEA is actually a privately held company owned by Stichting INGKA Foundation, a non-profit registered in Leiden in the Netherlands that is controlled by the Kamprad's three sons. IKEA Limited is licensed to sell under the IKEA brand name by Inter IKEA Systems B.V., a company registered in the Netherlands.
IKEA's Company Structure
The structure of business can affect the way it works and performs. An organisational structure is when employees are grouped into functional areas, which relate to their job, so that people doing similar jobs work in the same area.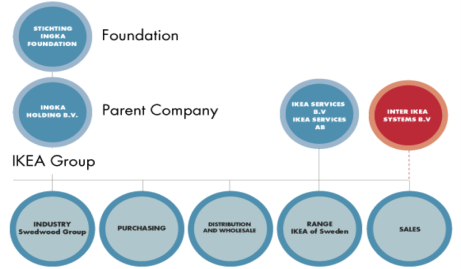 Inter IKEA Group (Inter IKEA Holding B.V. and all its subsidiaries) is owned by Interogo Foundation, based in Liechtenstein and established in 1989.   
The foundation is an independent entity with legal personality and its own governing bodies. The foundation exists for an unlimited period of time.
Inter IKEA and Interogo were established during the 1980s to secure independence and longevity of the IKEA Concept. The IKEA Concept is the core asset of Inter IKEA Group and its franchisor operation. The overall purpose of Inter IKEA Group is to secure continuous improvement, development, expansion and a long life of the IKEA Concept. This will require investments in both good and bad times.
1. Describe the recruitment documentation used in Ikea.
There are different types of documentation used in recruitment process, such as application letter, form, CV, person specification, interview, JD, Letter of appointment.
The details are as follows:
Application Letter
A letter of application, also known as cover letter, is a job application document to provide detailed information of the candidate. The employers will able to know in which position a candidate apply for and why the employer will select the candidate. When writing an application letter should include: subject, greetings, body of letter and signature.
Application Form
An application form is an essential part of the job search for a candidate to fill for the company so that they can get the information they want. In addition, many large commercial companies are use standard job application form because they are much quicker and time saving.
CV of a candidate
A curriculum vita is a written overview of a person's experience and other qualifications. Businesses will use application forms and CVs to see whether an applicant matches the job specification or not. The closest matching applicants are invited to interviews in the selection stage.
Interview:
Interviews are the most popular form of selection. Interview can be one-to-one, two-to-one or a panel of people to interview people which is used to select people for important jobs. Some businesses include tests in their selection.
Person specification:
The person specification is the single most important document in effective recruitment and selection.
It allows defining the kind of person a company want and so accordingly helps you to write an accurate job advert. It enables to assess each candidate fairly and objectively.
Recruitment process of IKEA
The traditional methods of job vacancies are to make people aware of the need to compete with the recruitment web-based systems. Traditional methods: newspaper advertising, paper-based curriculum vitae (CV), letter, word of mouth, the paper-based application form, job opportunities and the fair poster. Internet-based methods: online application form, online Curriculum Vitae, e-mail, Internet advertising, Curriculum Vitae information on the web page, the web page of the working group and the pop-up Web page.
Online Recruitment is much faster than traditional methods and has a number of benefits over using paper. It is possible to monitor how many people have gone on to a website to look at a job.
But each and every company has followed its own recruitment process. IKEA's recruitment process runs like following. First of all if anybody is interested in working in IKEA, he/she has to go through a list of open positions. If any post are suitable or challenging and moreover if he/she meet the requirements, apply via a button directly in an advertisement. If there is no open position interesting for a person but want to work in IKEA, send the CV to IKEA.
IKEA will give an e-mail answer about receiving the request or CV in both cases. Then IKEA management will assess delivered applications then and choose from applicants several most suitable candidates for the particular job position. After that a formal invitation sent to the candidates via e-mail or phone to participate in a selection process.
How a selection process runs
Selection process usually consists of three rounds. First of them is assessment centre, second one is a personal interview with a future manager and third one is a personal interview with a boss of this manager.
Assessment centre
Assessment centre is a way to know more about their future colleagues when they are solving different tasks and discuss with others. There are about 10 applicants participating. Both group tasks which a person will solve together with other participants and individual tasks are included. The great advantage is that candidate can get a feedback from one of the assessors if he/she wants to. They can know about their own strengths and weaknesses important for the career, where the advantage lies for a candidate and where they can improve.
Second round
Two or three candidates who pass to the second round are chosen based on the assessment centre results. The second round is a personal interview with a future manager. Usually IKEA personnel do not ask tricky questions. They appreciate the most candidates' honesty. They could ask to fill in a personal test as a part of the interview. If you want to ask anything about the future job, this is the right time to ask.
3. Personal interview
The third round is a personal interview between the most suitable candidate and the boss of the person's future manager, so called grandparent principle. IKEA are also interested in a candidate's motivation to work in IKEA in this phase and what expectation he/she has.
JOB ROLE: HR Manager
As a HR Manager I need to set some criteria regarding the scope of work within the organisation.
IKEA always look for the following things within a candidate and thus they issue job description. This is a task of a HR manager.
The manager should be aligned with other departments during the process of recruitment.
Practical skills
Ability to understand and get along with other people
Ability to ask questions and give inputs
Encouraged employees to question the management and express their ideas and belief
Co-workers who had mastered their current jobs were encouraged to seek new challenges
Job enlargement or enrichment
Value fit was the selection criteria
'Why Savers'- ideas to improve store
The company even gave an advertisement inviting 'Why Savers' to join the company
'Express Yourself'- share companies concerns and complaints with Spiers Lopez
This improved the morale within the company as she responded to their complaints personally
It had a comprehensive communications system for employees like IKEA Radio and intranet.
It also reached employees through printed material as well
Job description:
This document provides an understanding of the position's major responsibilities, details how the responsibilities are accomplished, and identifies the knowledge, skills and abilities necessary to perform the job. In the organization a job description sets out the scope of work of the main responsibilities and the main tasks to be done.
A job description is needed to set out how to fit into the work structure a particular employee. So it sets out:
The title of the job
To whom the employee is responsible
For whom the employee is responsible
2. Describe the main employability, personal and communication skills required when applying for the job role of Sales Assistant in Ikea.
IKEA is an equal opportunity employer. IKEA does not discriminate in recruitment, hiring or terms or conditions of employment on the basis of race, religious creed, colour, age, sex, gender identity, genetic information, sexual orientation, national origin, religion, marital status, medical condition, physical or mental disability, military service, pregnancy, childbirth and related medical conditions, or any other classification protected by federal, state, and local laws and ordinances.
IKEA called all its employees, regardless of rank, "coworkers".
To promote open communication, IKEA adopted a structure with no hierarchical distinctions.
Employees were encouraged to express their opinions and ideas directly to the top management.
Employees were rewarded with high level of empowerment.
Cost consciousness was deeply embedded in IKEA's culture.
IKEA's culture promoted diversity.
Openness to change and adaptability were stressed at IKEA.
Week-long orientation program in Sweden on the "IKEA WAY"
An IKEA co-worker's main task is to maximize sales and profitability in his/her area of responsibility using knowledge of the IKEA product range, local market conditions and the needs of customers.
Candidate employability skills required when applying for the job role of Sales Assistant in Ikea include:
Suitable qualification and experience in same role which helps to maximize sales and profitability by ensuring area of responsibility.
Knowledge of product or services are required for the job role of Sales Assistant in Ikeato provide the company best sales performance.
Need to share knowledge with customers and colleagues.
Experience of specific industry will help to provide best input for a company
Preparing area of responsibility for stock replenishment and next day's business.
Ability to observe and raise professional standards of production/service delivery.
Candidate personal and professional skills required when applying for the job role of Sales Assistant in Ikea include:
Patience and hardworking are the key elements in sales profession.
Self-confidence about approaching and talking to people in a polite and friendly manner.
Able to work with others in a team.
Flexible approach to work and are open to change.
Should have an interest in home furnishing and people's everyday life at home.
Ability to priorities and organize assigned work to make efficient use of time.
Negotiation skills in sales work enhance the development in career
Agreed with the sales target is a reflection of confidence
Able to resolving conflicts
3. Describe the main physical and technological resources required in the operation of Ikea.
Physical Resources
Physical and technological resources are always required in the operation of a company. Whether these resources are physical resources, such as property, equipment and materials, or less tangible human resources, emergency provision, insurance and security, money is required to pay for their use.
As a result, the management of finance is inseparable from the management of the business as a whole.
Land, Labour, Capital and Enterprise are also referred to as the Factors of production.
Physical resources of IKEA include machines which are used to fill the stock in self-serve and full serve areas are checked and charged daily.
Physical Resources used in IKEA include:
IKEA has expanded its product base to include flat-pack houses and apartments, in an effort to cut prices involved in a first-time buyer's home. The IKEA product, named BoKlok was launched in Sweden in 1996 in a joint venture with Skanska. Now working in the Nordic countries and in the UK, sites confirmed in England include London, Ashton-under-Lyne, Leeds, Gateshead, Warrington and Liverpool.
The Ikea store on Yas Island will have a total floor area of 32,000 square meters and a sales area of 19,150 square meters.
It will have a restaurant of 2,100 square meters with a seating capacity of 550, as well as 1,500 parking places. Yas Island store are providing a strong impetus for the Swedish furniture and Furnishings Company to push ahead with plans to expand in the region.
IKEA will need to make sure that all of their stores have the right amount of their products in the store to keep up with the demand of the customers buying them. In the warehouse, IKEA will need to make sure that they have the materials stored in a format where they are easily accessible so they can be made into the products being sold. IKEA needs to get rid of their waste and therefore may ask the government to help them with this.
Physical resources of IKEA like machines which are used to fill the stock in self-serve and full serve areas are checked and charged daily. The machines, building and production capacity are all well maintained to survive in retail business. They need to improve on POS terminal at exchange and returns where there have been cases of money laundering. Employees have stolen money and caught after many days. So these things need to be taken care of from the management and finance department. This leads to decrease in profits.
IKEA Dubai has more than 300 employees from different nationalities and regularly they are given training in their training centre. Expert professors and managers give them training to increase employee knowledge of products and increase skills at their work.
IKEA's IT facility is related with the other resources within and outside this company.  The company is planning to launch a new website, ikeabusiness.com, where small business owners can discover new ideas for designing their offices and share them with other entrepreneurs. Families can design their kitchens at IKEA Home planning service where once they design their kitchen they have to pay 500Dhs kitchen charges which is refundable once the customer buys the kitchen.
Planned Maintenance and Refurbishment
Important feature of IKEA stores is their long opening hours. Many stores are in operation 24 hours a day with restocking and maintenance being carried out throughout the night. Warehouse maintained in planned way.
IKEA have emergency provision in case of an accident and incident. Workers may have an emergency situation in that case after verification, documents provide to IKEA.
The people who are engaged with IKEA FAMILY, they can enjoy free product insurance facility. They can insure their new products against accidental damage on the way home and during assembly by swiping the IKEA family card at the check outs.
IKEA use the latest security technology to encrypt all personal information which a person submits through the IKEA's website, including card numbers, address and other information. They encrypt this information using SSL technology which allows it to be transmitted securely over the Internet without anyone else having access to it.
The machines, building and production capacity are all well maintained to survive in retail business. At IKEA, they want to have a positive impact on people and the planet. That's why they're going all-in on things that really matter, from switching their entire lighting range to energy-efficient LED to sourcing all of the cotton they use in their products from more sustainable sources.
They are also working towards 100% renewable energy – producing as much as they consume in their operations – and sourcing all of their wood from more sustainable sources by 2020. And the IKEA Group and IKEA Foundation have made new commitments that add up to $1 billion for climate action.
IKEA resources can be classified tangible and intangible.
The tangible resources available to the company IKEA, they may differ in Physical and Financial.
Within the physical resources, find machinery, which is characterized by modern and specific. Secondly, they have distribution centres, which are computerized and automated hierarchical systems, and finally they have additional shops and services that have standard models, in which they can find special services such as restaurant, day-care and parking.
Concerning financial resources, they have used Reinvestment in IKEA as a key resource.
There are two types of intangible resources, human and non-human, as nonhuman, can highlight the technology, they find patents according to the composition of materials.
Another thing is that IKEA has a unique company culture, since the vision, mission and values are present in every business process, plus annual management meetings are held to improve all business activities.
Finally they find organisational resources, which are business ideas.
Regarding human intangible resources, they can cover in this area to permanent workers, average wages and high standards of the company.
Technological resources include operation systems and tools required to effectively produce or create a product or service. These include energy, information, people, tools, machines, capital and time. Technological resources help production processes and service delivery in companies and organizations.
The main Technological resources required in the operation of Ikea include the following:
intellectual property, for example designs, drawings, text, music, video
Having the right type of intellectual property protection helps people to stop anybody stealing or copying:
the names of products or brands
inventions
the design or look of the products
things the company write, make or produce
Copyright, patents, designs and trademarks are all types of intellectual property protection. So IKEA have their own design, drawing for their furniture.
accumulated experience and skills;
The accumulated experience is what people have gained over years of working. Employees with more experience are likely to better than new employees. Also there should be enough people with the skills to carry out the operations in the business.
At IKEA they believe in people. Behind every product are humble, enthusiastic teams that make it possible. They offer exceptional career and learning possibilities. They encourage a person to try different roles, change between functions and even move abroad. A Person can design their own career path according to their development plan and future goals. IKEA believe in everyone's ability to develop. Because as a person grow, IKEA grows too.
There are many businesses that they have to invest their money into specialists software programmes so that they can operate properly. They have their own software module which consists of various software and material for which the intellectual property rights are vested in companies in the IKEA group.
protection via patents and copyrights
IKEA can use their money to protect their technological resources, but they can also use legislation to protect their ideas that they have come up with and they will need to be able to prove that their idea has been used without permission.
4. Describe sources of internal and external finance for the business of Ikea
Mainly IKEA is a privately owned company, hence they are not bound to disclose their financial information in the form of GPFR's – i.e. balance sheets and P&L statements. Therefore they only disclosed limited amount of information to the public.
Objectives of financial management
– profitability, growth, efficiency, liquidity, solvency
– short-term and long-term
These objectives remain constant for every business and due to the nature of IKEA efficiency is quite a major component of their management strategy.
Also as IKEA is privately run and Ingvar Kamprad is one of the wealthiest men (currently 4th richest) on the planet then it could be easily seen that return on equity is a major financial objective.
Inter dependence with other key business function   They have their own software module with Influences on financial management
Internal sources of finance – retained profits
External sources of finance
Debt: short-term borrowing (overdraft, commercial bills, factoring), long-term borrowing (mortgage, debentures, unsecured notes, leasing)
Equity – ordinary shares (new issues, rights issues, placements, share purchase plans), private equity
Internal – owners' equity, retained profits
Internal sources would be used by IKEA to a certain degree in particular retained profits. As IKEA is not a publicly listed company and is operated through a trust structure, share issue is not particularly relevant to IKEA's current financial structure
– external – short-term borrowing, (overdraft, bank bills), long-term borrowing (mortgage, debentures) leasing, factoring, venture capital, grants.
External borrowings through debt financing are much more likely to be used by IKEA. The combination of short and long term would be utilized to maximize advantages to IKEA.
Financial institutions – banks, investment banks, finance companies, superannuation funds, life insurance companies, unit trusts and the Australian Securities Exchange
Influence of government – Australian Securities and Investments Commission, company taxation.
Global market influences – economic outlook, availability of funds, interest rates
5. Interpret the contents of a trading and profit and loss account and balance sheet for Ikea.
IKEA produces the financial statement each year for their company. These statement is appear as company report. There are two main financial statement:
The profit and loss account
The balance sheet
The profit and loss account may be updated regularly and shows how much profit or loss a business is making. A profit can be made in several ways, for example;
From trading, in the case of a high street shop, i.e. buying and selling items such as home furniture, like IKEA
From manufacturing, for example a company like IKEA made affordable prices furniture. It buys raw materials such as wood, bamboo, cane and Jute which helps to processes to make furniture.
The top section of a P&L account is known as the trading account for a business that buys and sells items e.g. a furniture shop. What is known as the gross profit is calculated by deducting cost of sales from turnover.
The Balance Sheet
The Balance Sheet is a snapshot taken at a particular moment in time giving a summary of the overall financ
Cite This Work
To export a reference to this article please select a referencing stye below:
Reference Copied to Clipboard.
Reference Copied to Clipboard.
Reference Copied to Clipboard.
Reference Copied to Clipboard.
Reference Copied to Clipboard.
Reference Copied to Clipboard.
Reference Copied to Clipboard.
DMCA / Removal Request
If you are the original writer of this essay and no longer wish to have your work published on UKEssays.com then please:
Related Services
Our academic writing and marking services can help you!
Related Lectures
Study for free with our range of university lectures!

Freelance Writing Jobs
Looking for a flexible role?
Do you have a 2:1 degree or higher?
Apply Today!
Study Resources
Free resources to assist you with your university studies!