Digital Divide Date (DDD) Impact
Info: 5378 words (22 pages) Essay
Published: 13th Sep 2017 in Business
Different from other forms of entrepreneurship, social entrepreneurship's priority is to promoting both social value and economic value, as well as solving social problems. Most social enterprises are self-sustaining, and they target under served, disadvantaged or broken markets. Thus social entrepreneurship creates 'social impact' in many areas, especially successful social enterprises.
Digital Divide Date(DDD) as a internationally recognized non-profit social enterprise, whose social mission is to help economically or physically disadvantaged young adults, it practiced management successfully in Cambodia and Laos. DDD's successful business model and operation, as well as its impact on society reflects that social entrepreneurship creates 'social impact'.
DDD's impact can be seen in several areas as below.
Firstly, DDD educated disadvantaged young adults to learn skills and helped them to take further progress in their education. Indeed, they provided its employees with computer training and English classes, as well as gave scholarships to all employees to study for job related degree at a local university. Therefore it had impact on education, at least among its employees, in these two countries.
Get Help With Your Essay
If you need assistance with writing your essay, our professional essay writing service is here to help!
Essay Writing Service
Secondly, DDD created jobs and provided opportunities for disadvantaged youth, who were less competitive in finding jobs due to lack of education. Once recruited, employees are trained about six months before starting work. Through its internally developed training program, employees learned basic skills, as well as business-specific skills. However, after 3 or 4 years when employees graduated, most of them need to leave the company and moved to other local firms, which is a way of maximize the impact on educating more disadvantaged young adults. In this way, DDD is able to recruit and educate as many people as possible. Moreover, as the number of business clients grew, so did the employees. Thus DDD made a job creation in Cambodia and Laos.
Thirdly, DDD, as a social entrepreneur, made international partnership with a French NGO in 2008. DDD co-operated with the Centre for Information Systems Training(CIST) to provide IT training scholarship to disadvantaged Cambodian youth and help them find jobs in the local IT market, as well as train DDD's employees. The partnership plan was continued and expanded, which is a way of facilitating between different companies, even between different countries.
At last, to scale up DDD's social impact globally, it wanted to grow existing operation to 1500 people and expand globally, which was aim to help more people in father reaches of the world. It had several strategies, such as organic growth, partnership, joint ventures, or social franchising. However, whichever strategy it was, the mission was to help more people who were economically or physically disadvantaged through all over the world. Therefore, this kind of scaling up or growth would bring more social benefits to the society.
DDD, as a social entrepreneur, although it faced operational challenge in many ways, its business model surely promoted social value, as well as economic value, since it educated people, created jobs, made a partnership with other company. In addition, its success wasn't not only just confined to Cambodia and Laos, but also international cooperation. Moreover, it also worked on solving these countries' social problems, such as healthcare.
In conclusion, whether it is non-profit social entrepreneur or not, as long as it is successful and its mission is to integrate social and economic value creation, it will bring social benefits to society domestically, or internationally. Moreover, one successful social entrepreneur will encourage or attract other entrepreneurs to become social. Therefore, social entrepreneurship is a way of creating 'social impact'.
1500-2000 Words. One and a half line spacing, Arial or Times New Roman, 10, 11 or 12 Point using in text citation where relevant and appropriate.
2.01 Introduction
The aim of setting up the Food Truck-Vanpire is to take our various types of meals and soft drinks to wherever we can find our target market. It could be on the beach, a picnic ground, as well as any festivals or events. Another aim is to build recognized food truck brand, which will provide people high quality and healthy food faster at a cheaper price.
We will offer our customers the opportunity to either purchase our neatly packed foods or take their orders and we will prepare it. We have perfected plans not to allow our customers wait longer than necessary.
At The Food Truck-Vanpire, our meals will be prepared, served and sold at a pocket friendly price, as well as environment friendly. The health of our customers and low cost are of top most priority to us.
The mobile food truck is certainly not a new industry here, since 'Pop' Washer established CBD icon The White Lady in 1948. However, the industry is much hotter than ever and we want to have a stake in this market. Our goal is grow the food truck business to have franchises all over NZ.
2.02 Research
There are nearly 105 food trucks all over NZ and 44 of them located in Auckland, therefore surely that will be high competence. As a team together, we critically studied the market to know if we are truly ready to launch our mobile food truck business in Auckland.
Below are summary of the SWOT and PEST analysis that was conducted on behalf of The Food Truck-Vanpire;
1. SWOT Analysis
Strength:
Due to the fact that the truck is a mobile food establishment, thus not being tied to a single location, will help us maximize profits at different locations. Having an eco-friendly food truck on campus or CBD during late night hours will allow students or office worker to get their hands on food without leaving the campus and having to worry about getting home or to their next destination. And it is also available to serve different food at any time and any location to meet customer needs.
Weakness:
The first weakness is our lacking of experience, being a new entrant, we need a lot of paper work and learning work to do before operating food truck business. The second weakness is that the food truck has limited menu selections, so that the importance of this business is offering unique food or a range of food selections. The last weakness should be permits. Due to the fact the truck will need numerous permits to be able to sell food at various locations.
Opportunities:
Not tying down to one location is a good opportunity for our business, since we have various locations to set down. For example; we could serve our foods and beverage in two or more different location at a day, as long as we figure out when and how move from one location to another. Unlike restaurant, if one location doesn't work well, we can choose another one to operate our business. Another opportunity is various food selection. If a type of food is not selling well, it is easy to try another type of cuisine.
Threat:
Like any other business we have our own threat as well. Since it is a mobile food truck, one of the threat could traffic problem in rush hours, which can delay our movement. As a result we could miss our golden time and lost our customer in our intend area. Another threat we could face is parking. Indeed it is difficult to find a place to park at some locations, which means we cannot sell food at all. The last threat is the government policies, which could also pose a great threat to the mobile food truck industry.
Political
Food trucks have become a wildly popular and important part of the hospitality industry, and they are more environment friendly than any other food industries. So that since food truck first started in NZ, government opened many channels to food truck business and there are well established guidelines provided by Auckland Council. With the growing of food truck industry, as long as the trucks continues providing honest and quality food, there would be more channels and places that government would open to food trucks.
Economic
The food trucks attract pedestrians to commercial districts – which means increased sales and a more vibrant retail business overall. By offering low-price, culturally diverse and health food for people, they give people more reasons to frequent local shopping districts. They also cooperate with festivals (events) and provide various food and drinks to participants, which brings increased sales to themselves and the organizers. Furthermore, they are more environment friendly than restaurants, which is another way of economic benefit for society.
Social
By offering low-cost and culturally diverse food for people, the food truck as a form of business, becomes a trend among new entrepreneurs, especially young generation, which is a way of starting a new own business. Its social value is not only creating opportunities for unemployment, but also contributing to the rise of both food and local tourism, as well as itself becomes a tour spot. Moreover, It cooperates perfectly with majority of festivals and being a apart of them gives more pleasures to the people.
Technological
The food truck manufacturing techniques has strongly influenced the mobile food business , which is capable for business runners design their own unique trucks, as well as IT techniques. Indeed, Smartphones and social media in particular have taken the mobile food business to a different level. Most food trucks are using the internet to keep customers informed of their locations in real-time and engage with customers.
2.03 Business Opportunity
a. Low cost of entry.
-compare with other food industries, food truck costs less to start the business.
b. Low cost and easy market.
-most food truck does market through social media, such as twitter and facebook, so that cost less than any other business.
c. Mobility.
-unlike restaurants, food truck can change selling location one to another, which means more opportunities to this business.
d. Diverse food choices
-unlike restaurants, food truck can change menu one to another easily, which means more opportunities.
2.04 Industry
Hospitality Industry
2.05 Ownership
General Partnership – The Vanpire will be owned by three founders and operated as General partnership.
2.06 Vision Statement:
To be a leading mobile fast food provider by expanding more outlets anywhere in New Zealand. Will be recognized by selling franchise in neighboring country like Australia and be known globally in which the people will value the convenience and great tastes.
2.07 Mission Statement:
Our main mission is to offer a conveniently fast and mouth watering fused Asian-Western delicacy in the busy streets of Auckland.
2.08 Goals and Objectives
Objectives:
To provide delicious meals at the reasonable price with a taste of a fused culinary experience at the customer's convenience.
To be known as the leading hunger buster mobile cuisine in the streets of Auckland.
Goal:
To establish a profitable mobile cuisine in a way that customer's satisfaction is more valued by providing clean, healthy and delicious meals. That will make customers want to return again and again.
To earn $120,000 profit of business year to cover up all expenses.
To be recognize member of food chain industry that will be able to expand the business opportunity by opening more branches (mobile or mall outlets) after 3 years of productive operation or by selling a franchise nationwide.
2.09 Structures, Systems and Processes
Locations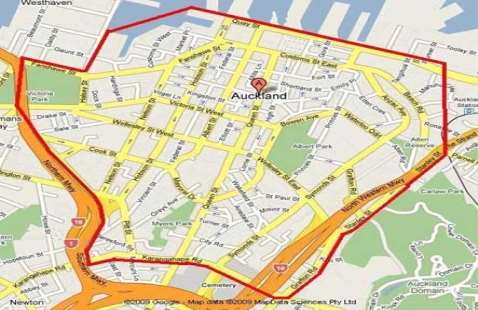 The Primary location of the mobile food restaurant is in the heart of Auckland's Central Business District, where the most people will be seen. The area is made up of the city's largest concentration of skyscrapers and businesses that will be a very important part of the food business. The target markets of the mobile food restaurants would be the residents, tourists, employees and even the passerby. The city also has an educational institution where the students are also part of the target market. Auckland is a melting pot and has a rich cultural diversity which give us the idea to fused Asian-Western cuisines.
Facility   

Truck dimensions 11'H  X  25'L  X  7.5'W
The Vanpire will be open for 7 days a week for breakfast, lunch and dinner. The shifts and the schedules will be written by one of the Manager Mr.Bo Huang. Mr.Bo Huang will be in charge in the daily work shifts and the location of the mobile food restaurant. He will plan and decide the route and area our Vanpire food truck will be situated. The storage and inventory will be the responsibility of Mr.Huang, He will ensure the freshness of the food that will come from the warehouse. He will have the checklist on the store materials and replenished the stocks regularly.
To make certain of the quality of the food, Mr. Ranie Lopez will be giving in-house training to the new employees about the food hygiene and proper food handling. Setting up the list of daily menus is one of the responsibilities of Mr. Lopez. He will make sure that the food is delicious that
the customers will return again and again. Health and safety of our employees and customers are important to us.Mr. Lopez will ensure that our company is 100% compliance to the New Zealand Health and Safety legislation.
Ms. Rochelle Pagayonan will be handling the recruitment of the personnel. She will be handling the recruitment process, job interviews and even the pay rolls. Ms. Pagayonan will be also handling the administrative job, she will secure all the necessary licenses, permits and fees that the Vanpire food truck needs for the operations. She will liaise to every supplier from rice products up to the vegetables.
Ms. Pagayonan will also create the opportunity to cater and setting up our Vanpire Food truck in any events that will be held here in Auckland, events like concerts, carnival or festivals. She will be keeping purchasing records, invoices and daily expenditures.
Customer is the heart of our business and their satisfaction is valued at Vanpire's food truck. They shall be greeted by our server or manager on duty at the service counter area taking the orders. Once the customer's order has been taken the receipt will be passed on the cook. The cook will take the order receipt then prepare the meal. The meal must be prepared in at least 2 minutes per order and must be delivered to the customer in warm temperature. The kitchen is equipped with oven, griddle, 2 deep fryers, refrigerator, and a juice dispenser as well as a coffee maker. Three personnel will be in the shift, the cook, server and the duty manager. The Vanpire Food truck will be clean on starting shift and during the end shift. It will be job of the duty manager to drive the food truck and must be a licensed driver. The closing personnel will do the inventory and must prepare the materials that will be used next day. All the sales profit will be handled by the on duty manager.
Business timings
Monday  9:00am to 5:00pm
Tuesday  9:00am to 5:00pm
Wednesday  9:00am to 5:00pm
Thursday  9:00am to 5:00pm
Friday  9:00am to 5:00pm
Saturday/Sundays 7:00am to 2:00pm
Suppliers
Suppliers gave us the reasonably best prices to support our product and daily operations. We shall be establishing good relationship with our qualified suppliers. These suppliers can deliver according to the schedule.
2.10 Target Market and Marketing Strategy
Target Market Strategy
The Vanpire food truck is committed to deliver high quality western and Asian food to different consumers who are around the CBD area that are looking for fast, affordable and excellent food. Even though the Food truck is designed for everybody but the biggest buyers are the young adults ages from 25-35 years old who wants fast and delicious food from the food truck not to mention that most of the people in that age are very fond in attending events like concerts and sports events.
The idea of starting food truck business is to sell foods in the areas where the people find difficulties in locating nearby restaurants or people who wants fast and affordable foods. In places like flea markets, camping grounds, sports event center, music festivals, construction sites, carnival these are the components that will guide in choosing our location.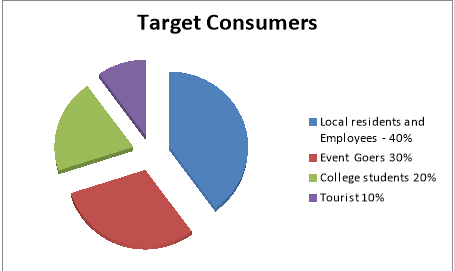 Strategic options
One of the main goal of the Vanpire food truck is to serve a healthy food for the customers at a very low price, the management meticulously choose the best supplier in the area but with a reasonable price of ingredients used for the meal so that the customers could have a fresh and healthy food.
The Vanpire Food truck is unique from other food trucks in Auckland because the concept of the food truck is a fusion of Asian and Western cuisine so that our valued customers would have something to choose from.
The Vanpire food truck offers affordable foods below the average price of a normal food truck meal but with abundant servings that is why Vanpire lover's always keep coming back for more. However, if the sales of the food truck increase, the price of the product probably would be the same with the other food truck.
Every month the Vanpire food truck introduces new western and Asian cuisine for the customers to try on. However, there would be a suggestion box in the food truck and a survey form that the staff would ask kindly to the customers so that if there is any suggestions and complaints from the customers regarding the service and the products that the Vanpire's offer would be heard by the management.
Marketing Strategy   
The vampire food truck marketing strategy is based on providing our customers with the most delicious western and Asian food at a very low price. We will start our first food truck as a "food truck tester". If the food truck business would make a good market we will plan to expand a few more food truck's in the future.
We will create a loyalty plan for our loyal customers. For every meal that they will purchase, we will give them discounts and even freebies in celebrating our food truck anniversary every year.
Social media ( i.e facebook, twitter, instagram ) is our last tactic in our marketing strategy it is where we will be announcing our schedules daily so that our valued customers would know where to find us.
2.11 Personnel Plan
– The Vanpire is a small business where employees are categories including a Duty Manager/Driver, Cook/Chef and Window Attendant. Mr. Huang will be the Duty Manager/Driver of the food truck. Whenever there is a last minute absence of the employees Mr. Huang and Mr. Lopez is responsible for filling the position. We assume that there would be a total of three employees. One chef and one window attendant in the food truck and one kitchen hand in the warehouse for food preparation. There would be a part-time Chef and Window attendant every weekend so that the regular staff would have their two days off every week.
Two of the owners Mr. Lopez and Mr. Huang will be in attendance during business hours to supervise the food truck.
Position

Quantity

Rate

Avg Hrs

Sub-total

Total

Duty Manager

1

Chef

1

$17.00

8

$ 136

Window attendant

1

$15.00

8

$ 120

Kitchen hand

1

$15.00

4

$ 60

Total staff cost

$ 316
2.12 Critical analysis
The Vanpire food truck is owned by Mr. Huang, Mr. Lopez, and Ms. Pagayonan. The main purpose of their food truck business is to deliver excellent, faster and affordable food for their customer. It is a trend nowadays to own a food truck business here in Auckland . It is an advantage to food truck businesses in events in carnival grounds, music festival grounds and even in sports event centers to sell their goods where restaurants and other food establishments are not available in the area. The starting capital of their food truck business can range to 100,000 NZD, with a reasonable amount of capital in starting up a business.
The vampire food truck with their unique fusion of western and Asian delicacies can be a big hit even though there were a good amount of other food trucks in the area.
2.13 Conclusion
The management is very positive that the Vanpire Food Truck can reach its goals, producing sales of approximately $120,000 by the end of the year. The Vanpire's food truck management carefully considered its customer satisfaction wholeheartedly and its ability to grow its sales average to capture market share in food industry.
The operational issues that we had identified which are human resource and product quality. Human resource is one of the issues an entrepreneur is facing because it is the most important part of any business. Human is a capital of any business and will not work properly without this capital. Failing to properly manage human resource will have a great effect on the business operation, cost and especially the quality of the product or the service rendered. In Human resource, delegating the right person on the right task. To be effective, human resource personnel must ensure the competency of the person by evaluating the applicant's knowledge, skills and experience fit for the position. Failing to hire experienced personnel will have a great impact in time and costs. Hiring a highly competent person is not the end of human resource process. To an efficient employee the employers must provide hands on training for their new employees, skills development and performance evaluation for their existing employees. Poor human resources have a strong link with the product and service quality. Poor quality is one of the operational issue a company is facing. In any business the most important people are the clients or the customers and their satisfaction must be guaranteed. The life of the business is in the customers so the Quality of the product must be ensured at all times. Delivering poor quality products or services to the customers may become a problem to the organization. Customers may lose the trust on the organization and may never use the product if the product is bad. A company with poor quality product my lose their reputation as well. For an example, a construction company with a poor performance due to the poor quality of the service will have a increased in cost because of the repetition of work and delay of the time allocated to the project. Quality must be in high priority and a good input will have a good outcome. Company must ensure the quality control of their service; delegate a competent quality inspector to guarantee the quality of the product. Material to be use must be check for the quality.
Find Out How UKEssays.com Can Help You!
Our academic experts are ready and waiting to assist with any writing project you may have. From simple essay plans, through to full dissertations, you can guarantee we have a service perfectly matched to your needs.
View our services
One of the management issues is stress management. Work related stress is normal to every company or a working person. There are many reasons why people get work related stress. Delay in schedule, conflict between situations, task overload, lack of sleep and even work relationships are the causes of work related stress. Stress management is important to every working persons even what kind of work a person is doing there will be always a stress and it is always how people react or handle it. There are many ways to management stress at work. First way to handle stress is take care of yourself first, take a lot of sleep and healthy food of course you cannot work properly if you are drained. Maintain social circle outside work, life must not revolve around work only. Always be prepared on the potential issues and prepare a contingency plan. Put first things firsts and have a to do list and work schedules to allow prioritization. Second management issue will be time management, poor time management will be stressful to every entrepreneurs. Poor time management may lead to overload of work or a delay in delivery of service.
Good time management is essential to entrepreneurs and it helps them handle the priorities. Entrepreneurs must set up a prioritization from high priority to low priority and must delegate the responsibilities to his competent personnel. Making a schedule helps entrepreneurs plan and organize business activity which will aid him identify the crucial task. Entrepreneurs must have a daily checklist that will aid him to recognize things that have been already done and emphasize which activity needs attention.
Creating a solid culture is a main core in every company. So every leader must consider some steps to achieve strong foundation of their company. It's not always "business operations first, people second", behind every successful company there is a people behind it, who work hard every day to help achieve the company's goal. First, there would always be a "transparency" so that the employees will feel that they have knowledge of the company's strategy and responsibilities. For example, during monthly meetings of every department the managers would discuss the company's whereabouts, what would be the next project or if there are any issues regarding the services. Second is, every employees need to balance their work and personal life, sometimes we need to take a moment to stop and try to hit the reset button, so every manager or employer must consider their employees life, so that employees could think effectively and be productive in their work, or the company could arrange team building activities so that the employees could relax and have some fun at the same time. The more the employee feels happy in his life the more productive he/she is. Third, communicating to your employees. If there is an issues that needs to be discuss, it might be effective to try to gather all your employees immediately and talk to them what went wrong in a project/ or services that they offer, or you could even talk to them occasionally about their life outside work so that they would feel comfortable to open up to you. Fourth, set your organizational design into place. It is simply shows how you do things in your company. It includes communication, company policies, employee responsibilities, meetings etc. For example, every month there would be a meeting in every department? How about every section? Does it need to have meetings every month as well? What are the specific duties and responsibilities of every employee in the human resource department? If you have it designed well, every employee in your company will do their jobs effectively. Fifth, the employee must feel empowered and have a sense of freedom in their work. For example, in giving guidelines it must be specific and let the employees to their best without criticizing every step that they make in doing the task.
The more freedom they have on their task, however you can manage them but not too much micromanaging them, help them find solutions, the more they feel being part of the organization and contribute in the culture of the company. And lastly, in every employee individual achievement there is always a reward waiting for them. In other companies there are many dedicated and excellent employees, however, they we're taken for granted for all their effort in the company, they feel left out. Sometimes, the company must give their employees some motivation to achieve their task. Company leaders must be generous to their staff, because the main foundation in every organization is the people working behind it.
 References
Street trading and performance. (2017). Auckland Council Web site. Retrieved July 2016, from
http://www.aucklandcouncil.govt.nz/EN/licencesregulations/streettrading/Pages/mobileshopsandstalls.aspx
Street trading and performance ("Auckland Council" 2017)
Mark Piscopo (2017). Fast Business Plans Web site. Retrieved from
http://www.fastbusinessplans.com/sample-business-plans/restaurant-business-plan.html?showall=&start=2
Restaurant Business Plan ("Mark Piscopo" 2015)
Brett Lindenberg (2016). Food Truck Empire Web site. Retrieved from
Starting a food truck? ("Brett Lindenberg" 2016)     
Cite This Work
To export a reference to this article please select a referencing stye below:
Reference Copied to Clipboard.
Reference Copied to Clipboard.
Reference Copied to Clipboard.
Reference Copied to Clipboard.
Reference Copied to Clipboard.
Reference Copied to Clipboard.
Reference Copied to Clipboard.
DMCA / Removal Request
If you are the original writer of this essay and no longer wish to have your work published on UKEssays.com then please: