HAWT Technology Research
| | |
| --- | --- |
| ✅ Paper Type: Free Essay | ✅ Subject: Engineering |
| ✅ Wordcount: 1362 words | ✅ Published: 30th Aug 2017 |
Horizontal Axis Wind Turbines (HAWT), are the most commonly used wind turbine.HAWTs have a similar design to a windmill, with blades that look like a propeller, spinning around a horizontal axis.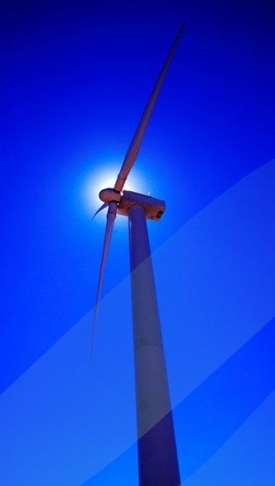 Figure 1 Typical HAWT
All the components (blades, shaft, gearbox, generator) are located at the top of the tower. The blades must face into the wind and yaw into position every time the wind direction changes. The shaft axis is horizontal to the ground. The wind hits the blades of the turbine where lift causes rotation. The shaft has a gear on the end coupled to a gearbox which turns a generator. The generator produces electricity and sends this either to power grid or electrical equipment requiring power. The wind turbine also has some key elements that adds to its efficiency. Inside the Nacelle (or head) is an anemometer, wind vane, and controller that read the speed and direction of the wind. As the wind changes direction, a motor (yaw motor) turns the nacelle so the blades are always facing the wind. The power source also comes with a safety feature. In case of extreme winds the turbine has a break that can slow the shaft speed. This is to inhibit any damage to the turbine in extreme conditions. See Figure 2.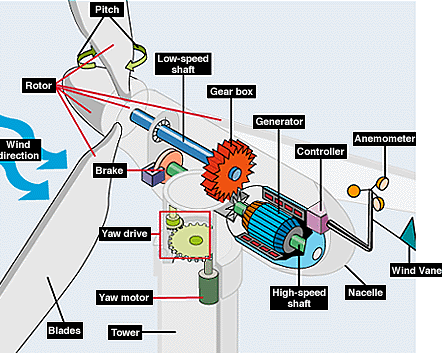 Figure 2 Internal components of a typical HAWT
The merits of horizontal axis wind turbine over vertical axis wind turbine can be seen in
                               Table1 Benefits of HAWTs vs VAWT
HAWT VS VAWT

NO

POWER GENERATION EFFICIENCY

HORIZONTAL AXIS

VERTICAL AXIS

1

POWER GENERATION EFFICIENCY

50% – 60%

ABOVE 70%

2

ROTATING SPEED

HIGH

LOW

3

EFFECT ON BIRDS

GREAT

SMALL

4

GEAR BOX

ABOVE 10KW: YES

NO

5

BLADE ROTATION SPACE

QUITE LARGE

QUITE SMALL

     6

NOISE

5-60 Db

0-10 Db

7

STARTING WIND SPEED

HIGH(2.5-5m/s)

LOW (1.5-3 m/s)
 Horizontal Axis Wind Turbine Blade
The blade is one of the most important components of a wind turbine. It is required to have the best materials, manufacturing, analysis and testing to endure aerodynamic loads, gravitational loads, inertia loads and operational loads throughout its lifetime. Therefore, the structural design process has a decisive and critical influence on the overall performance of the blade. The structural design of a HAWT blade involves many considerations such as strength, stability, cyclic loading, cost and vibration. Reducing the mass is a key requirement for a successful blade design. A lighter blade will not only exert lower loads on the remaining components of the HAWT, but also reduce the cost. This is a benefit to the entire turbine system, including the support body and the foundation. However, the recent approach results in material layup with high component thicknesses. Blade mass as a result often does not exhibit a satisfactory structural response. There is huge potential to reduce the amount of material used in the blades manufacture to minimise its mass. The process of structural blade optimisation to reduce mass and increase its mechanical properties is an important area of development worthy of in-depth research. Table 1 details various HAWTs and their rotor weights.
                   Table 2 Selection of turbine size and weight configurations
Turbine Name

Pitch or Stall

Rotar dia (m)

No of Blades

Nacelle and Rotor Weight (kg)

Weight per Swept Area (kg/m²)

Mitsubishi MWT-1000 (1 MW)

P

57

3

unspecified

Nordex N90 (2.3 MW)

P

90

3

84,500

13.3

Nordex N80 (2.5 MW)

P

80

3

80,500

16

Repower 5M (5 MW Siemens

P

126

3

unspecified

SWT-3.6-107 (3.6 MW) Siemens

P

107

3

220,000

24.5

SWT-2.3-93 (2.3 MW

P

93

3

142,000

20.9

Gamesa G90-2MW (2 MW

P

90

3

106,000

16.7

Gamesa G58-850 (850 kW)

P

58

3

35,000

13.3

Enercon E82 (2 MW)

P

82

3

unspecified

GE wind 3.6sl (3.6 MW)

P

111

3

unspecified

Vestas V164 (7.0 MW)

P

164

3

unspecified

Vestas V90 (2 MW)

P

90

3

106,000

16.7

Vestas V82 (1.65 MW)

P

82

3

95,000

18
Advantages of HAWT over VAWT
Axis of Rotation
It is the main and biggest difference. As the name states, Horizontal Axis Wind Turbine has its axis of rotation parallel to the ground and Vertical Axis Wind Turbine has its axis of rotation perpendicular to ground.
Number of blades working at a time
If we take a 3-bladed wind turbine for example, then in a Horizontal Axis Wind Turbine, all three blades work at once. whilst in a Vertical Axis Wind Turbine only blade works at a time.
Working wind direction
VAWTs are omni directional and work in all wind directions while HAWTs only works in a specific wind direction and have to yaw to face the wind before they can begin operation. When wind direction changes the stops, and has to yaw into position.
Efficiency at a given wind speed
Because all the blade of HAWT work at the same time, its efficiency is much greater than the VAWT.
REFERENCES
Peter J. Schubel * and Richard J. Crossley Faculty of Engineering, Division of Materials, Mechanics and Structures, University of Nottingham, University Park, Nottingham NG7 2RD, UK
Veritas, D.N. Design and Manufacture of Wind Turbine Blades, Offshore and Onshore Turbines; Standard DNV-DS-J102; Det Norske Veritas: Copenhagen, Denmark, 2010.
Dolcera.com(online)
Cite This Work
To export a reference to this article please select a referencing stye below:
Reference Copied to Clipboard.
Reference Copied to Clipboard.
Reference Copied to Clipboard.
Reference Copied to Clipboard.
Reference Copied to Clipboard.
Reference Copied to Clipboard.
Reference Copied to Clipboard.
DMCA / Removal Request
If you are the original writer of this essay and no longer wish to have your work published on UKEssays.com then please: