Development of Automated Irrigation System
| | |
| --- | --- |
| ✅ Paper Type: Free Essay | ✅ Subject: Engineering |
| ✅ Wordcount: 3901 words | ✅ Published: 18th May 2020 |
AUTOMATED IRRIGATION SYSTEM
1. Abstract:
I am working on the development automated irrigation system. It was developed in many areas in agriculture department and the countryside areas to focus on water use for agricultural crops. This robot will be consisting of water sprinklers, soil moisture sensor, temperature sensor, water tank, Bluetooth module, LED screen, humidity sensor. These all parts will help us in development of irrigation system. This robot will easy to operate because of the Bluetooth module. In the previous time this process takes too much time and effort but my purpose is to reduce the time and man power. It will also save water as per the soil moisture sensor gives the instruction sprinkler will not spill the water.  
2. Overview:
In the snappy paced worldwide people require the entire parcel to be programmed. Our reality style needs everything to be faraway controlled. Aside from few issues man has made his life programmed. In the part of create hardware, life of people must be less difficult. Henceforth to make life simpler and advantageous, we have made "Programmed IRRIGATION SYSTEM". A model of controlling water system offices to help a huge number of individuals. This model utilizes detecting course of action age with microcontroller to make a sharp exchanging instrument. The constant expanding request of dinners requires the quick improvement in nourishment creation age. In a nation like India, in which the monetary framework is principally founded absolutely on horticulture and the climatic conditions are isotropic, still we aren't fit for utilize rural assets. The major reason for existing is the lack of downpours and deficiency of land supply water. Water system has always been a notable practice which has progressed through such a significant number of stages throughout the years. Our hereditary ranchers in an offer to flood their homestead searched for various strategies. Manual water system the utilization of basins and watering jars, flood water system, trickle water system, sprinkler water system have been and are in any case being utilized today. The flow framework has various limits; filtering off of soil supplements, disintegration in view of flooding, loss of water from plant surfaces by means of vanishing, water wastage that may result to water deficiency in dry spell districts and assembling of hazardous yields. This problem might be corrected in the event that we use microcontroller based programmed water system machine wherein the water system will take zone best while there may be intense necessity of water. Robotization of water system contraption alludes back to the activity of the machine without an or least manage intercessions. Water system robotization is legitimized in which an enormous flooded zone is partitioned into Small sections known as water system squares and fragments are inundated in accumulation to fit the discharge to be had from the water supply. In such manner, the works that we have reviewed portray the one of a kind types of automated water system strategies, how they in all actuality have filled the need and the essential contrast among our endeavour and those literary works that we've thought about. On this detail, the overarching works "Connected building in agribusiness, "Information securing device and water system controller and "Robotization in Micro-Irrigation, utilizes subsurface trickle water system the utilization of dribble tapes and are time based structures wherein water system time clock controllers, or clocks, are a major piece of a computerized water system machine. A clock is a significant gadget to utilize water inside the vital amount at the correct time. Clocks can prompt beneath or over-water system in the event that they're not adequately customized or the water amount is determined erroneously. Time of activity is determined in accordance with volume of water required and the regular float charge of water a clock begins off evolved and stops the water system framework. It routinely plans water system at arbitrary occasions through the use of clocks in which inside the computerization for the gadget and introductions have been not connected. The papers titled " Feedback Control for Surface Irrigation Management and "Control and Automation in Citrus Micro-water system Systems, utilizes open circle structures in which the administrator settles on the choice on the amount of water to be connected and the planning of the water system occasion. The controller is customized correspondingly and the water is executed predictable with the favoured timetable. Open circle control frameworks utilize both the water system span and a specific executed degree for control purposes. Open circle controllers ordinarily incorporate a clock this is utilized to start water system. End of the water system can be basically founded on a pre-set time or can be founded on an assigned amount of water passing through a float meter. In an open circle framework, the administrator settles on the decision on the measure of water a decent method to be connected and keeping in mind that the water system event will happen. This record is customized into the controller and the water is connected by the ideal time table. Open circle control frameworks use either the water system length or a unique connected volume for control purposes. The weakness of open circle structures is their powerlessness to answer routinely to changing over circumstances in nature. Furthermore, they will require visit resetting to acquire high degrees of water system execution. (htt18)
Literature reviewof soil sensor:
ABSTRACT Published attempts to measure soil moisture content using soil-implanted electrodes were reviewed. The literature review primarily covered domestic, agricultural-related research during the past century. The review indicated a general feeling of doubt about the accuracy and reliability of the resistance method to determine soil moisture. However, most researchers stated that the method showed promise and warranted further study. The reviewed literature proposed methods of eliminating changing probe-to-surface contact. Rather than eliminating this phenomenon, a resistance-based sensor presently under development utilized this trait as one variable in soil moisture determination.
Literature review of water level indicator sensor:
•          In 2015, 663 million people did not have access to improved drinking water; the majority lived in the rural, water scarce regions of lesser developed nations. Global discussions of water scarcity had begun in the mid-1970's, and over the following 30 years, several water availability indicators evolved to try to understand this water availability quandary. This thesis provides an integrative literature review to identify and describe the current water availability indicators that are most commonly used to assess regional potable water resources around the world. It then assesses the adequacy of those indicators for use in the developing, semi-arid, rural regions of the globe with a focus on measuring community access to available water. One key finding is that existing indicators metrics focus solely on the physical availability of the water, but do not include metrics for quantity or quality or readily available access to it. This thesis also finds that while the base data collected for the indicators are at the spatial scale of country or region; these data are often arbitrarily applied to the local scale. This scalar variation is then found to create erroneous availability statistics. The resulting conclusion is that there is a need for an indicator, which more accurately represents access to water at the local level. Also discussed are the socio-economic issues of access that are missing from current indicators. For water access indicators to work at the local level, they must use data beyond water quantity and quality measured at the national or regional scale. Water access indicators need to be: easy to calculate, cost effective to implement, scalable to the micro-level, based on existing data, developed using a transparent process and, not least, must be easy to understand by all the stakeholders. Ideal indicators will use data and new technologies that include scalable tools that allow selection and use of appropriate water purification tactics.
Expected model:
Fig. 1 robotic model (htt17)
1).the proposed framework is intended to defeated the problem of water the rural land.
2). Temperature and soil moisture will check to find the requirement of water in soil.
3). this robot will be controlled by the android application installed in mobile phone.
3. Project scope:
This project is containing new advantages as it will reduce the labour.  By developing this robot we can solve the water wastage problem. This robot can be used in any agricultural field weather it is outside or inside the home. Soil sensor will detect the wetness of the soil after that the water starts sprinkling. This will reduce the wastage of water. As we all know the time is most precious thing so it will also save most of the time in various ways.
Communication with the Bluetooth module by mobile phone.
Reduce the wastage of water.
Reduce the labour
Advancement of the agriculture field
3.1 Individual Objectives
In this project he work team will consist of 3 members, the following points describe my individual objective for this project:
1.  To study and design the developed prototype body.
2. To study and design the water tank to analyse the quantity and size and to install the water level indicator gauge of the developed project    prototype.
3. To develop the program of DC water pump motor and study it performance.
4.To develop the program of soil sensor.
4. Project methodology and requirement:
4.1. Explanation:
The robotized water system water sprinkler framework is principle source to lessen labor and water sprinkler included temperature sensors and mugginess sensor altered water structure was proposed to enterprisingly perceive the moisture level of the earth. The structure reacts fittingly by watering the earth with the precise required extent of water and after that closes down the water supply when the necessary degree of soil dampness is developed. The reference level of moistness sensor substance was made to be versatile for the three most common soil tests (sandy, loamy and clayey soils – the models utilized for this undertaking was taken from around the Covenant University EIE building, Nigeria). In like way the extent of water system, for example the volume of water passed on to the earth, will be adaptable by the structure executive (smooth, obvious and weird states
Get Help With Your Essay
If you need assistance with writing your essay, our professional essay writing service is here to help!
Essay Writing Service
The temperature sensors were sorted out utilizing tests conveyed using breaking down safe material which can be stuck into soil test. Voltage levels relating to the wet and dry conditions of the dirt model were enlisted by surveying the obstruction between the sponginess pioneer tests and arranging them to yield voltages of a comparator circuit. A submersible low-disarray humbler scale water siphon was made to pass on the water to the fitting bits of the earth (the base of the plants). The volume of water required for water structure per time was enrolled by considering the limit of the water siphon and the water channels. The necessary water system time was compelled by considering the reaction time of the water siphon and the water volume required per water structure occasion. An organizing circuit was intended to utilize the necessary water structure time to control the term of each water system occasion. Ages were finished utilizing Proteus™ circuit re-enactment programming besides, the LCD screen assumes a significant job in my venture I need to swear on LCD screen LCD screen A4, A5, AREF AND PIN OF LCD SCREEN IS GND.
4.2. Equipments and components required:
For this project so many different components are required and the components that I am using are soil moisture sensor, dc pump motor, water level indicator gauge, water tank and robot body. These all objectives contain mechanical analysis, study of material, finding the suitable components for robot.
Soil moisture sensor:
I have installed the soil moisture sensor in this robot which will help to detect the moisture content in soil. It will decide the flow of water in fields that how much water it is needed. I have done the programming needed to run this soil sensor. I have seen some of the literature review to find out the working of the particular sensor.
Fig 2 soil moisture sensor (htt19)
Water tank (pump):
It is used in this endeavour to siphon the water required for water framework from the standard water tank through channels.
ii) This siphon can be used for different applications, in family fuse cleaning, washing, space warming and blossom of water.
iii) This siphon is picked for thisendeavor since it has incredible focal points. For instance, it has a lightweight. Furthermore, it has somewhat size, so it is definitely not hard to present and override it. Moreover, it has an enough profitability to siphon water for water framework. Since it works in 12 volts, so it eats up lower control. Additionally, this siphon has an amazingly Low of clatter. Finally, the cost of this siphon is uncommonly unassuming
1) I have fitted the water tank at the top centre of the body, which will give the constant flow of water at the time of irrigation.
2) I worked on tank in my project such as irrigation system in my project I put different type of variables such as i) pump used was manufactured using a littler than regular dc motor constrained by the yield of the power supply unit.
             ii) The mechanical yield motivation behind the motor was stacked with littler than normal bi-                  directional fan sharp edges and confirmed unequivocally using glue.iii)  The siphoning was practiced      by placing the fan sharp edges in a separated region delivered utilizing two cylinder melded plastic fittings.iv) The motor was also inserted into a fitting to shield it from contact with water. The electrical relationship with the motor were experienced a tight hole in the side of the attachment.
3) Control the water pump in our project should do computerized water system framework alludes to the activity of the framework with no or only at least manual mediation adjacent to the reconnaissance. Pretty much every framework (trickle, sprinkler, surface) can be computerized with assistance of clocks, sensors or PCs or mechanical machines.
4) Irrigation system makes the water system process progressively productive and labourers can focus on other significant cultivating errands. Then again, such a framework can be costly and complex in its structure and may needs specialists to plan and actualize it.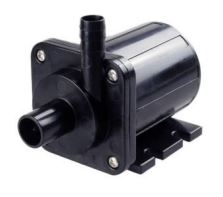 Fig 3 water pump
To accomplish the careful venture targets we are demonstrated that utilizing Arduino as the working
Wiring of pump motor and indicator gauge:
Interface one controller wire to the siphon terminal and the other wire to the basic terminal. Walk out on at the breaker box. Turn on the water.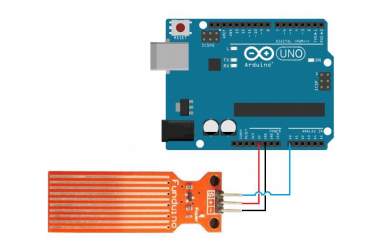 Fig 4 water level sensor
Framework-
Framework in this undertaking is the best decision, it contain many open stock equipment and programming.
Selection of materials
The initial step of this procedure of structure the model of the mechanized water system framework was the selection of materials for this undertaking are known, which are appropriate and significance to agribusiness, inquire about was attempted to choose materials.
Field Control System
This progression relies upon the working of various sensors utilized in this undertaking which are (dampness, temperature, light, and downpour).
Task Preparation
To assemble the structure of this undertaking, two tables had used to make parts of the venture progressively fixed. In any case, to make an ideal structure, size were estimated for each part that will be utilized in the venture later on. Spots of (siphons, valve, and stream meter), kind of adaptable pipe to be fit. Kinds of various sensors dependent on the condition that will chip away at, two 12 volt battery, little plastic tank, LCD screen to screen following of water, the diverse kind of associating wires, and controller (Adriano type AT mega 328V).
Mechanical Design
To start with, sketch plan for the venture was made, at that point estimations, size required for structuring the undertaking. These are old style and present day strategies for both the lab and in situ estimations. The old style soil dampness estimation strategies incorporate thermo-gravimetric, calcium carbide neutron dispersing, gypsum square and densitometer methods the cutting edge strategies use soil resistivity sensor, tensiometer,infrared dampness parity and dielectric strategies like Time Area Relectometry (TDR), Frequency Domain Reflectometry (FDR) capacitance procedure, heat transition soil dampness sensors, smaller scale electro mechanical frameworks and optical techniques Estimation of water substance dependent on sensor estimations gives constant, in situ estimations at a moderately reasonable cost. Soil dampness sensors conceivably give the way to flood as per the exceptional attributes of guaranteed crop in a given field. These sensors can be utilized as an 'independent' strategy, or their utilization can be joined with the FAO technique, or they can be utilized to supplement water system the board dependent on
Experience:
Robotizing ranch or nursery water system frameworks permits ranchers to apply the perfect measure of water at the opportune time, paying little heed to the accessibility of work to turn valves on and off. It just permits the client to screen and keep up the dampness level remotely regardless of time. On the off chance that the plants get water at the best possible time, at that point it builds the creation from 25% to 30%[81,82] Conventional instrumentation dependent on discrete and wired arrangements, presents numerous challenges on estimating and control frameworks particularly over the huge geological zones. In the event that various types of sensors (that is, temperature, stickiness, and so forth.) are associated with such water system in future works, it tends to be said that a web based remote control of water system mechanization will be conceivable.
5. Project plan and schedule:
Fig 5. Gantt chart
Bibliography:
Section B. Individual evaluation report:
Self evaluation:
I have to work in group as well as working on my individual parts.
I have study the mechanical analysis of my part and look at some literature reviews
While making this project I got the chance to learn about new things like sensors, aurdino and different materials.
I have done the programming of soil sensor.
I have learned about different fields like mechanical, electrical and automated also.
Peer evaluation:
In this project we have to work in group to make the better project. For this team work is much needed. Firstly we have decided the project in group and then we have choose the suitable components for the project. Group members also boost up the confidence which will help to work properly.
Cite This Work
To export a reference to this article please select a referencing stye below:
Reference Copied to Clipboard.
Reference Copied to Clipboard.
Reference Copied to Clipboard.
Reference Copied to Clipboard.
Reference Copied to Clipboard.
Reference Copied to Clipboard.
Reference Copied to Clipboard.
DMCA / Removal Request
If you are the original writer of this essay and no longer wish to have your work published on UKEssays.com then please: