Continuous Emission Monitoring System
| | |
| --- | --- |
| ✅ Paper Type: Free Essay | ✅ Subject: Engineering |
| ✅ Wordcount: 2868 words | ✅ Published: 31st Aug 2017 |
Continuous Emission Monitoring System (SO2 Measuring on Emission Gas).  
CE 2.1
In this career episode report, I would like to describe my experience in Continuous Emission Monitoring System designing. CEMS systems are used for measuring flue gas for oxygen, carbon monoxide and carbon dioxide to estimate the combustion control in industrial monitoring purpose. Nowadays it is considered as a standard to meet with various emission standards. Factories are operating CEMS system continuously to get the emission records and submit these data to respective state/federal authorities.
BACKGROUND
CE 2.2
Chemtrols is one of the leading solutions providers in Process Gas Analytics, Environment Safety and Emission Monitoring, Flow Measurementation, Chemical analysis and Automation, Instrumentation solutions, Data Handling and Fire & safety Systems. It is a technology innovated company operated by a group of professionals having high technical abilities and proven project management track records. There are skilled teams to handling small to large assignments; they will deal numerous stages of the job such as design, procurement, integration, checking, troubleshooting, commissioning and maintenance. They successfully implemented many projects in various industries like Steel, Oil & Gas, Cement, Power, Chemicals etc. as a specialized solution provider.
CE 2.3
On 2010, I was assigned as the Senior Project Engineer of continuous emission monitoring project for Saint Gobin Glass Ltd. It was a prestigious moment for me working with Chemtrols since the projects were the first of its kind in Chennai – India to measure the SO2 emission from the burning of flare stacks. The main objective of the proposed project included to designing of analyzer system, preparation of material specification, assembly with the analyser, calibration, testing, timely delivery and site supervision of complete analyzer package. I was assigned to reviewing the customer specification and inquiries to provide the feedback whether the facility was able to handle the job.
Get Help With Your Essay
If you need assistance with writing your essay, our professional essay writing service is here to help!
Essay Writing Service
I conducted multiple technical discussions with the customer to getting approval on documents, introducing changes/improvement to finalize the design before starting the fabrication. Due to various specific requirements from the customer during engineering stage, I had re-examined a lot of factors to achieve client requirements. Each and every time I have submitted a report to my supervisor about the cost, quality, functionality and schedule which were affected in the design.
CE 2.4
I had performed the following activities to successfully complete the proposed project,
I analyze the project requirement/purchase order and clarified the technical queries that have been pending during sales stage. Also defined the scope of work and materials to supply.
I was authorized to generate the specification of materials required for the system and procure the same with the help of procurement team.
I was assigning jobs to other team members those who involved in this project such as draftsman, production supervisors, fabricators, fitters, helpers, and electricians. I was responsible for scheduling the drafting team for preparing the engineering drawings.
I prepared the weekly project status and monthly progress report to the organization as well as the customer for evaluation. These reports help me to review the project progress, budget and time schedule.
I was conducted regular meeting with other team members to analyze the progress of individual's task and effectively deal all issues and difficulties to achieving the targets.
I was frequently communicated with the client to confirm the design, quality, and progress of the jobs.
I lead the team having engineering, fabrication, production and testing for the Analyser systems.
I was started to compare similar equipment from different manufacturers based on project requirement. It helps me to measure the differences between price, quality, and reliability of it.
I was rectified errors and mistakes made during engineering/fabrication and conduct an inquiry among my team to understand causes. After completion of each milestone, I conduct a group discussion session with my team members for an analysis about the same and guide them to achieve the next goal.
CE 2.5
I have given the organizational structure of the proposed project in Fig 1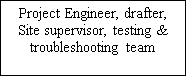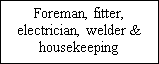 Fig 1: Organisation Structure of the Project
2. PERSONAL WORKPLACE ACTIVITY
CE 2.6
Initially, this project was considered as a standard CEMS application similar to refinery flue gas stack. When I go through the detail of the project specification, I understood that it was totally dissimilar with refinery applications. The customer wants to measure Sulphur dioxide (SO2) gas content in the emitted gas to the atmosphere, then the measured SO2 reading to be recorded and submitted to State Pollution Control Board in a particular format suggested by them. As per State Pollution Control Board guideline, the SO2 range must be at least 2% lower than the limit.
CE 2.7
After a lot of communication with the customer, I take an initiative to visit customer place with the project manager for a site survey to get a clear understanding of the site condition. I arranged a technical meeting with customer's maintenance team. During the discussion, I understood more about the process and how it is non-identical with the emissions from other industries. There is a lot of highly dangerous gasses produced from the factory during normal operation. This is the cause of generating some corrosive gasses and acid upon contact with moisture. This gas is very harmful to human being and which may lead to blindness and other critical diseases.
Find Out How UKEssays.com Can Help You!
Our academic experts are ready and waiting to assist with any writing project you may have. From simple essay plans, through to full dissertations, you can guarantee we have a service perfectly matched to your needs.
View our services
Due to the corrosive nature of this compound, I decided to use Polytetrafluoroethylene (PTFE) tubing and glass materials for the project instead of stainless steel tubes. Normally stainless steel tubes and fittings are used in analyzer system. All other components of the system such as Sample Probe, Sample Heat Tracer Line, Sample gas cooler, flow meter, tubes and tube fittings are also checked for the suitability to this application.
CE 2.8
In addition to this, I carried out an in-depth study of all the industrial standards and statutory regulations relevant to the project. I did research through manuals, journals, technical documents, consult my colleagues and seniors those who are expert in such application. With the support of this knowledge, I take it as a challenge to get customer appreciation.
I choose appropriate equipment and materials according to my calculations. I take safety and accuracy as my first consideration of designed objects. Also, I consider geographical aspects of the proposed site location, maintenance provisions, and accessibilities, emergency precautions of the designed object. I provide very easy and simple methods for the installation and operation of equipment. So my system was very user-friendly and even a non-skilled person also can understand easily.
My job mainly involved the following activities:
Prepare standard detail material list (BOQ) for analyzer system include the quantity of materials with part numbers and brand (such as the analyzers, valves, heater, cabinets, tubes with fittings, electrical components, junction boxes, calibration gas, control relay etc).
Design the schematic of sample condition system which involves necessary functional requirement at a lower cost. On basis of this, I prepared the complete drawing of analyzer system such as general arrangement, electrical wiring, logic, control and safety features of the analyser system.
Produce the necessary technical calculation for the system such as sample transportation time, wake frequency, utility consumption, and phase calculation.
Compose the quality related documents such as quality assurance plan, inspection test plan, factory acceptance test procedure and site acceptance test procedure.
I inspected the major component at manufacturer's workshop and witness the performance of the same.
I included different ways of environmental protection and fire safety measures. I estimate which equipment is to be reconstructed and which one should be replaced by the new equipment.
All these documents are submitted to the customer for approval and get their acceptance before starting the procurement activities. I clarified various queries raised by the customer and get their acceptance with slight modification. All components were procured as per the project requirement. I was closely monitoring the purchase activities to ensure that all materials shall be suitable for the project and under the proposed costing. Also, review the material receipt to confirm that the received materials are in usable condition. We had supplied Stainless steel probe to the customer to withstand at a temperature about 500 Degree C and provided additional arrangement on the probe to filter the HF for sampling. I specially designed a sample probe for this project. Also, introduce a new fully customized sample gas cooler made with glass coil to avoid any corrosion in the future. If we used stainless Steel cooler, then it is corroded and damaged within a week time. Similarly, I supervised the production and testing activities to finish the project at the scheduled time period.
I have scheduled my works always because I have to work with several disciplines at the same time. My schedule always helps to balance my works and concentrate my subordinate group on time. I provide necessary information to other engineers involved in this project from different departments. Submitted all design basis to an assigned certifying authorities to get approval.
CE 2.9
Around one month before the scheduled factory acceptance test, the customer informed that there are some changes in process parameters at the sample take off point. They provided a new specification having a huge change with the existing parameters. I noticed that there is a huge amount of moisture content and solid particles in the new sample. As a result of this, sample transportation line will chock (block) within a week and our analyzer system will not provide any result. All designing activities are finished and around 75% of fabrication was finished. I requested the management to hold all the fabrication activities until I finish the basic calculation with the new specification provided by the customer. I did the lag time calculation, phase calculation, wake frequency calculation and utility consumption within one day and proposed some modification on the existing design. After consulting with the project manager, I shared the action plan with our customer and get the acceptance from them to proceed further. Then we restart the production and testing activities.
CE 2.10
I did the following design changes to ensure that the analyzer system will work at the site without any issues.
The inner diameter of the sample tube is increased to 10mm instead of 4mm to avoid blockage.
Due to sample tube size change, sample transportation time also increased from 56 seconds to 152 seconds. I implement a high capacity pump on the transportation to maintain the project specified sample transportation time (less than one minute).
Implement an automatic air cleaning (30 seconds in every two hours) facility on the sampling line.
Install redundant filter arrangement nearby the sample tapping point. As a result of this, Client can do the maintenance on each filter without disturbing the analyzer system.
Maintain the temperature of transportation line around 20 Deg C above the dew point to avoid the contamination (water formation) at sampling line.
Provide a moisture removal system nearby analyzer to resist the passage of water content to the analyser.
With the above-mentioned changes, factory acceptance test was performed on the scheduled date and shipped the system to the site. As a result of this hard work, I managed to finish this project a couple of days before the scheduled closing date. The supplied system was successfully installed and commissioned at the customer location. Our team work was highly successful.
CE 2.11
I strictly follow the customer specifications at all times of engineering and preparing technical data sheets very carefully. This technique was assisting me to avoid the cost over-runs and bring forth a consistency in the progress of project execution. After site completion, I concluded all my learning point from this project. I arranged an internal meeting with my team for a project closing discussion and prepared the project closure report. The technical competency within our design team increased. I had done a detailed examination of a lot of equipment and materials to perform the best design. I was coordinated with different disciplines of customer liaise the modifications and changes both technically as well as commercially.
SUMMARY
CE 2.12
In Conclusion, I had contributed myself to complete this Analyser System with extra activities, spend more personnel time to finish. The customer was very much appreciated for this work and they also had a learning point from this project because they already procured similar Analyser system from other supplier and failed within 2 months of operation. After 1 year operation, I received a received a feedback from the customer that the equipment is working fine. These kinds of projects are very beneficial for me to become competent in terms of taking care of other subdivisions, clients, and domains. I was learned the techniques to manage all difficult situations arising at different stages of the project. Clear up this kind of situation improve my managerial and technical skills in scheduling, supervising, monitoring and execution of big projects. I got vast experience in my career during my tenure with this company. During this period, I understood Instrumentation Engineering in depth and got a lot of opportunities to do what I had learned from my course.
Cite This Work
To export a reference to this article please select a referencing stye below:
Reference Copied to Clipboard.
Reference Copied to Clipboard.
Reference Copied to Clipboard.
Reference Copied to Clipboard.
Reference Copied to Clipboard.
Reference Copied to Clipboard.
Reference Copied to Clipboard.
DMCA / Removal Request
If you are the original writer of this essay and no longer wish to have your work published on UKEssays.com then please: