Construction of a Chemical Plant
| | |
| --- | --- |
| ✅ Paper Type: Free Essay | ✅ Subject: Engineering |
| ✅ Wordcount: 3321 words | ✅ Published: 30th Aug 2017 |
SITE CONSIDERATIONS
5.1 Summary
In this chapter, the aim is to give a clear view on the selected location along with the reason, explanation and the brief information about the site as well in order to construct a chemical plant. The main focus is all about the side consideration, which is to consider the most strategic location in terms of geographical factors. A strategic site must be found for a new project and the site and equipment layout need to be planned to ensure that the plant will be operate at its best condition to ensure the quality of the production of methanol. In addition, there a some factors must be considered first while selecting a suitable site such as location, raw material supply, transport facilities, availability of labour, availability of utilities, availability of suitable land, effluent disposal, local community consideration, climate and the last one is politic and economic consideration. As the conclusion, Gebeng industrial land, Kuantan which is located in Pahang Darul Makmur was selected as the site for the Iso-amyl Alcohol plant. Last but not least, the plant layout is also drawn as it is important in order to consider how the plant is build.
5.2 Introduction
A preliminary feasibility study must be conducted and a suitable site must be found before start the plant construction. The location of the plant may have a crucial effect on the profitability of the plant and its operation. It is important to determine whether the Iso-amyl Alcohol plant is feasible to be built up or not in term of safety, environment impact controllability, the flexibility for the plant and the economic aspect as well. There are some factor that must be considered before build the methanol plant to make sure the operation will operate smoothly and to get the best quality of Iso-amyl Alcohol production such as location of area, raw material supply, transport facilities, effluent disposal, climate, availability of labour, availability of utilities, suitable land, local community and politic and economic. The manufacture of Iso-amyl Alcohol is classified as a petrochemical project. The plant must be located in a specialized zone provided by government. Three main locations that have been short listed to set up the proposed 100,000 metric ton/year Iso-amyl Alcohol plant are Senawang Industrial Estate, Negeri Sembilan, Pengerang Industrial Port, Johor and Gebeng Industrial Land in Kuantan, Pahang. The comparison table is given in Table 5.4.
5.3 Side Consideration
5.3.1 Location of Area
Industrial area are typically situated outside the principle neighbourhood of a city. The range for the most part is given great transportation get to including street and rail. Separating the industrial region is to set aside modern uses from urban ranges so as to decreasing the ecological and social effect. It can likewise draw in more new business by giving a coordinated framework in one area.
5.3.2 Raw Materials Supply
The supply of crude materials is a standout amongst the most essential figures choosing the area of a plant. Crude material supply is a critical angle that should be considered before beginning up a plant. As chemical process includes in change of crude materials to complete item, it is essential to have a plant that is situated close to where the supply of crude material is greatest. The principle preferences are to diminish the transportation cost of crude material furthermore lessening the capital put resources into storerooms.
5.3.3 Transport Facilities
Transport facilities are vital for conveying the crude material to the plant and to disperse the completed items to the market. The basic of transport like street, rail and ocean ought to be accessible and close to the plant. A minor thought is the accessibility of air transport because of the impediment utilization of the transport. A decent transport facilities don't just guides the entire procedure, however can helps boosting the import and fare exercises. This by one means or another would create great economy for the nation.
5.3.4 Effluent Disposal
Effluent disposal, be it in fluid, strong or vaporous are a noteworthy worry in planning a plant. There are very extreme limitations on waste transfer and these vary with a specific area. It is mandatory to consider the allowable resistance levels for water, land and air dispersal. The site chose need sufficient and successful transfer framework for dealing with the effluents, for example, the seepage frameworks and dumping site. Waste water should be dealt with before diverted to open channels to stay away from any ecological issues. The cost of the emanating treatment ought to be considered too since ordinarily it will be high.
5.3.5 Climate
It is essential to decide the climatological figures around the site region before beginning up a plant. The atmosphere can have a vital bearing on the financial operation of a procedure. Malaysia climate profits by a tropical atmosphere with both high temperature and moistness consistently. Data on the example of precipitation and frequency of high wind or substantial tempests ought to be considered. In selecting a site inside a picked area, the local history ought to be checked first. Any natural incident like quakes or surge that has been happen should be noted.
5.3.6 Availability of Labour
The plant ought to be put in an area where adequate work supply is accessible. Accessible labour from nearby specialized establishments will give an advantageous commitment to run the plant easily. Despite the fact that the general pattern is for expanded computerization in concoction plant , notwithstanding staff and designing work force ,the procedure still need a huge work compel, particularly where a move framework in an operation. It is critical for finding the plant to consider the contending businesses, the ability and knowledge of specialists and the turnover rate.
5.3.7 Availability of Utilities
"Utilities" is currently by and large utilized for the subordinate administrations required in the operation of any production procedure. Power required for electrochemical processes, engines, lightings and general utilize. Steam for the procedure warming and it is required for the procedure is produced in the tube boilers utilizing most monetary fuel. Likewise, water additionally is required for general utilize in light of the fact that the water required for the broadly useful will be taken from nearby source of water.
5.3.8 Suitable Land
For the proposed plant and for future extension the appropriate land will be accessible. The land ought to be all around depleted, in an ideally flat and have reasonable load bearing limit. To decide the requirement for other uncommon establishment a full site assessment ought to be made. Moreover, it ought to be accessible with low cost too. To decrease the aggregate speculation and development cost, the land cost ought to be prudent as could be expected under the circumstances. However, in any case, the land cost relies on upon the area and it might changes without any notice. The area must be safe that it doesn't force extra hazard to the community.
5.3.9 Local Community
The plant local group must be able to provide adequate facilities to the plant personnel, for example, schools, banks, lodging and recreational social offices. Other than that, the proposed plant must fit in with and be worthy by the nearby community. Full thought must be given to the protected area of the plant. With that it doesn't force a noteworthy extra hazard to the community.
5.3.10 Politic & Economic
Capital grants, charge concessions, and other prompting are regularly given by government to guide new venture to preferred area, for example, areas of high unemployment. The accessibility of such concedes can be the abrogating thought in site selection.
5.4 SIDE SELECTION
Table 5.4: Side selection between Senawang Industrial Estate, Negeri Sembilan,
Pengerang Industrial Port, Johor and Gebeng Industrial Land in Kuantan, Pahang.
Selection citeria

Senawang industrial estate, negeri Sembilan

Pengerang Industrial port, Johor

Gebeng Industrial land, Kuantan, Pahang

Location

5km from Plus HighWay Senawang

9km from Lekas Highway

13km from Seremban

45km from Johor Bharu

8km from Johor Port

40km from Kuantan Town

Next To Palm Oil Industrial Cluster (POIC)

Kuantan Port about 10 km away, and Kemaman Port, about 45 km away

Types of Industries

Medium industry

Agriculture industry

Petrochemical industry

Petrochemical industry

Area of available

8.63 hectars

12.14 hectars

Min. 3 acres, to max. 250 acres.

Land Price

RM 12 000 000

RM28.00 per square feet

RM 36 590 400

RM20.00 per sq.ft

RM 2 613 600 for min. 3 acres

Feedstock

Pentane from:

Shell Refining Company (federation Of Malaya) Berhad, Batu 1, Jln Pantai, Port Dickson, Malaysia

Chlorine and NaOH from:

CCM Chemicals Sdn Bhd(159498-A), Lot PT 200, Jalan Asam Jawa 16/15,Off Persiaran Kemajuan, 40200 Shah Alam, Malaysia

Pentane from:

Shell Refining Company (federation Of Malaya) Berhad, Batu 1, Jln Pantai, Port Dickson, Malaysia

Chlorine and NaOH from:

CCM Chemicals Sdn Bhd(159498A), Pasir Gudang Factory Plot 411, Kawasan 4 Jalan Perak1 Pasir Gudang Industrial Estate 81700 Johor Bharu, Malaysia

Pentane from:

Shell Refining Company (federation Of Malaya) Berhad, Batu 1, Jln Pantai, Port Dickson, Malaysia

Chlorine and NaOH from:

Malay-Sino Chemical Industries Sdn Bhd Lot PT 4406, Kawasan Perindustrian Teluk Kalong, 24000 Kemaman, Terengganu, Malaysia.

Water Supply

Syarikat Air Negeri Sembilan (SAINS)

Syarikat Air

Johor (SAJ)

Semambu Water

Treatment Plant

Energy Source

TNB seremban

IPP YTL Power

generation Sdn.Bhd

(404MW)

Sultan Iskandar Power station

TNB Johor Bharu

TNB TanjungGelang, Kuantan. (800Mw)

Transport

Facilities

Railway

Main station bus seremban

Main highway to kuala lumpur, port Dickson and Malacca.

About 45min from international airport klia

Johor port

Near to jalan kota tinggi main road

Facing Gate 2 Rapid new main road

80 km from Johor Bahru

Sultan Ahmad Shah Airport, Kuantan,36km away

Kuantan Port about 10 km away

Kemaman Port,45 km away

Kuantan-Kerteh Railway Linking the Kerteh Industrial Area and Kuantan Port to its right

Other Facilities

Nearby police Station and fire station

Bank

Nearby to seremban city

Bum boats and ferry operate between Changi Point Ferry Terminal (Changi Village) and Pengerang daily.

Kuantan-Kerteh Railway Linking the Kerteh Industrial Area and Kuantan Port to its right.
5.5 PROPOSED SITE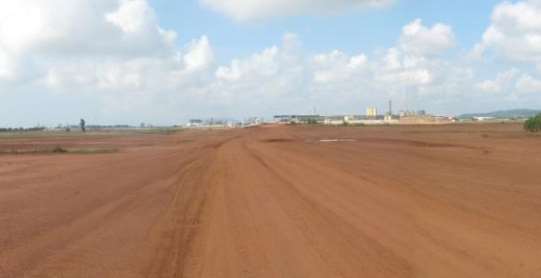 5.5.1 PROPOSED SITE
Figure 5.5.1: The proposed site of plant in Gebeng Industrial Land, Kuantan Pahang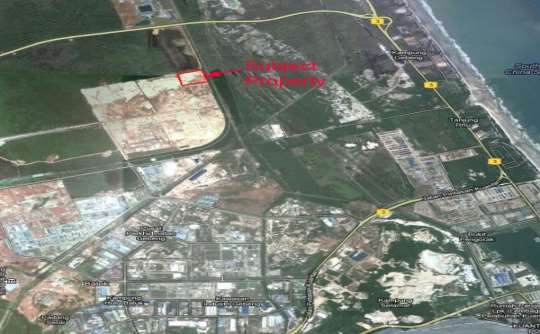 Figure 5.5.2: The proposed site of location plan in Gebeng industrial land via google image.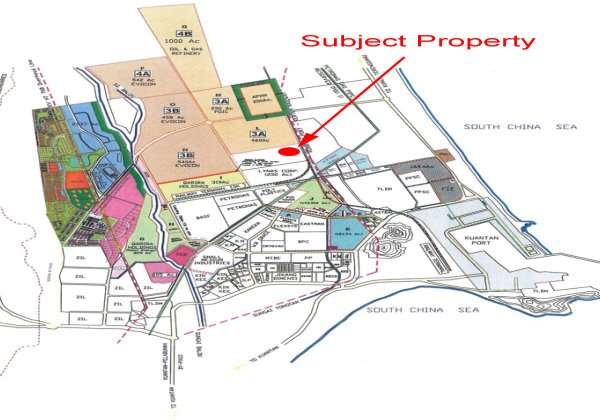 Figure 5.5.3: The proposed site plan of plant location in Gebeng industrial land via constructed map
After doing some consideration based on several factors, Gebeng Industrial Land, Kuantan, Pahang had been choosed due to its competitive advantages compares to Senawang Industrial Estate, Negeri Sembilan and Industrial Port Pengerang, Johor for iso amyl alcohol plant setup and production. Taking the best economic scenario into account the plant life, the location have been chosen based on several criteria such as operational cost, market price , the availability of raw material sources, transportation and capital cost.
Gebeng Industrial Land is prepared land ready with infrastructure, located In Gebeng Industrial estate, the main industrial area in Kuantan, Pahang. The Gebeng Industrial Land is a thriving hub of commercial activity where numerous multinational corporations in the petrochemical sector are based at.
Generally, industrial land must be undivided and of regular shape, completely flat, close to industrial power, water and drainage supplies, and well serviced by transportation infrastructure. Therefore, it is identified to fulfill all the characteristics needed for the proposed site of constructing this petrochemical plant, which is Iso-amyl alcohol plant. The main reason for the selection is the availability of land with availability from 3 acres to 250 acres with the price about RM 20.00 per sq. ft which is affordable price with strategic location.
Find Out How UKEssays.com Can Help You!
Our academic experts are ready and waiting to assist with any writing project you may have. From simple essay plans, through to full dissertations, you can guarantee we have a service perfectly matched to your needs.
View our services
Furtheremore, with a great development phases there, it was located strategically which is located next to Palm Oil Industrial Cluster (POIC) and in close proximity to the Malaysia-China Kuantan Industrial Park (MCKIP). Besides that, it also located only nearby to Petronas Gas Berhad Centralised Utility Facility (PGB CUF) and Gebeng Railway Yard that located to its left side. Moreover, the Kuantan-Kerteh Railway that linking the kerteh industrial area and Kuantan Port only located to its right making this land more strategically to build our plant there.
The availability of raw material nearby the plant are suitable for the production in terms of saving the cost operation. Basically, the raw material was supplied by two suppliers which is one from Port Dickson and another one from Kemaman, Terengganu. Shell Refining Company (federation Of Malaya) Berhad in Port Dickson was chosen to supply pentane and Malay-Sino Chemical Industries Sdn Bhd in Kemaman, Terengganu was chosen to supply chlorine and NaOH to plant. Furthermore, in order to ensure the raw material always in stock, Qingdao Eastchem inc located in China also chosen to supply the pentane. Basically, the price of pentane is cheapest in China about 1000 dolar per metric ton, but the total price to supply to plant need to consider likes transportation process of this material. The raw material will be shipping from China to the port Kuantan, Pahang in bulk quantities. Then the material will be send by cargo truck services from port to the plant.
Besides that, the transport of materials and products to and from the plant will be an overriding consideration in site selection. If practicable, a site should be selected that is close to at least two major forms of transport like road, rail, waterway (canal or river), or a sea port. The least expensive method of shipping is usually by water; the most expensive is by truck. Road transport is suitable use for local distribution from a central warehouse. For long distance transport especially for bulk of chemicals, rail or airway transport is suitable transport use in term of saving costs and cheaper. Besides, for convenient and efficient for the movement of personnel and essential equipment and suppliers, air transports is the main transport facilities use. Gebeng industrial land is easily accessible by road via the East Coast Expressway connecting to Gebeng By-Pass and Kuantan By-Pass. It is also near the Sultan Ahmad Shah Airport, Kuantan, about 36km away and Kuantan Port about 10 km away as well as Kemaman Port, about 45 km away. Besides that, Kuantan-Kerteh Railway Linking the Kerteh Industrial Area and Kuantan Port located only to its right, makes it located more strategically.
The main requirement for every plant and industry is the availability of electricity. It is the most important utilities to plant for every activity such as production, run of equipment or activities in the office. It supposed to have electricity with minimal impact to its surrounding and environment. Some industry generates their own electricity by their own generator but in most industry and plant in Malaysia, the electricity is provided by Tenaga Nasional Berhad (TNB). The main electricity supplier in Gebeng Industrial Estate also Tenaga Nasional Berhad (TNB). The electricity supply provided by TNB for Phase I and II is supported by its 132/11kV main intake and for Phase III, two sources of electricity supply are available which Centralised Utility Facilities (CUF) and 12/275kV main intake. Water also one of the most important component in industry either fresh water or water used in equipment. The water is required for large industrial as well as general purposes, starting with water for cooling, washing, steam generation and as a raw material in the production of ethylene glycol. The water supply in Gebeng Industrial Estate is supplied from the Semambu Water Treatment Plant. The current capacity of water supply is 2MG/D. The Government of Pahang is committed in ensuring an efficient water supply in Gebeng. The steps that have been taken are by increasing the water supply to 64 MG/D, build a building of a new 200 acre dam in Sungai Lembing, Kuantan as well as build a building of new pipes and water tanks in Gebeng Industrial Estate.
Last but not least, the main telecommunication supplier in Gebeng Industrial Estate is Telekom Malaysia. They provide state-of-the-art facilities and services such as Integrated Systems Digital Network (ISDN), digital line, MAYPAC, Internet and video conferencing. For fire fighting facilities, the Pahang Fire and Rescue Department is located near Gebeng in order to handle any emergencies. In addition, located within the vicinity of Gebeng is Petronas Centralised Emergency Facilities. Both stations are equipped with HAZMAT (hazardous material) facilities. Another services provided is the Gebeng Emergency Mutual Aid (GEMA), a voluntary crisis management organisation, set up from an alliance between Government agencies and private manufacturers in Gebeng. The main objective of GEMA is to execute proactive action and they also offer expert services to counter emergencies.
Cite This Work
To export a reference to this article please select a referencing stye below:
Reference Copied to Clipboard.
Reference Copied to Clipboard.
Reference Copied to Clipboard.
Reference Copied to Clipboard.
Reference Copied to Clipboard.
Reference Copied to Clipboard.
Reference Copied to Clipboard.
DMCA / Removal Request
If you are the original writer of this essay and no longer wish to have your work published on UKEssays.com then please: