Allogeneic MCSs to make Cartilage for Knee Function
| | |
| --- | --- |
| ✅ Paper Type: Free Essay | ✅ Subject: Engineering |
| ✅ Wordcount: 5239 words | ✅ Published: 31st Aug 2017 |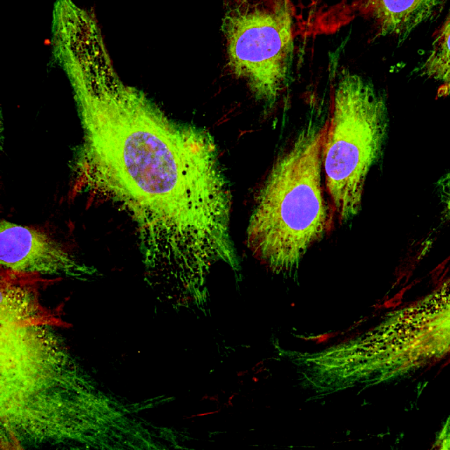 INTRODUCTION: –
1.1 What is Osteoarthritis?
Articular cartilage is a highly resilient hyaline tissue composed of chondrocytes and surrounded by extracellular matrix present in a joint which act as shock absorber, protects the bones from the friction and wear and helps in smooth movement of the joint (Bhumiratana et al. 2014). Osteoarthritis is a disease of joint where lack of cartilage causes musculoskeletal pain and restriction of the movement or disability of the joint for the patient. (Ahmed and Hincke, 2010) (Duthey, 2015).
Reasons for cartilage damage are: –
The impact / blow caused during sport activities or accident
Wear and tear because of overuse of a joint (Observed in elderly people)
Lack of movement (Medical News Today, 2017)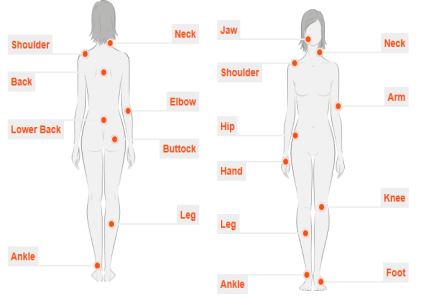 Figure No.1. Osteoarthritis Affected Region
Image Source: – www.osteoosteoOsteoarthritisresearchuk.org
Osteoarthritis can affect any joint present in the body. As the knee-joint Osteoarthritis is the most common type of Osteoarthritis, in this report, we will discuss about knee-joint Osteoarthritis only.
Tibiofemoral and patellofemoral are the two articular surfaces that the knee consists of. As it can be seen in the below image, the damaged cartilage, reduces the gap between joint and friction is generated between the bones which ultimately results in bone erosion and causes muscle pain or inflammation or restriction to the movement.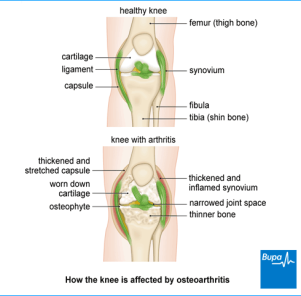 Figure No.2. Osteoarthritis affected Knee
Image Source: – http://www.bupa.co.uk/health-information/directory/o/Osteoarthritis
Osteoarthritis is estimated to affect 250 million people worldwide. Osteoarthritis sufferers include men and women, children and adults. And according to World Health Organization, 30% of men and women over the age of 65 have Osteoarthritis (Woolf and Pfleger, 2003). Worldwide, 9.6% of men and 18.0% of women over the age of 60 years have symptomatic Osteoarthritis. Approximately 80% of those with Osteoarthritis will have limitations in movement, and 25% cannot perform their major activities of daily life (Duthey, 2015).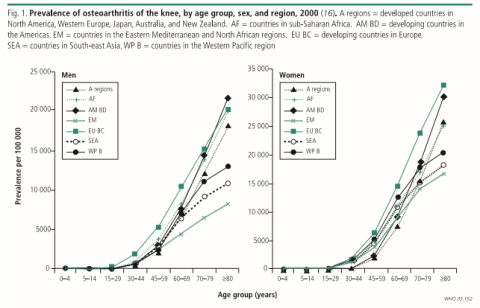 Figure No.3. Prevalence of Osteoarthritis of Knee
Image Source: – Burden of major musculoskeletal conditions, Bulletin of the WHO 2003
1.2 Treatments available for Osteoarthritis: –
There are various ways to cure Osteoarthritis when it is at the initial level, such as: –
Exercise and weight loss
Bracing
Medication
Viscosupplementation
Nutritional supplements (Duthey, 2015).
But when it becomes incurable by exercise and medication, surgical operations must be performed. Surgical procedures include: –
Debridement i.e. Smoothening of the cartilage using surgical instruments
Marrow Stimulation, a treatment which helps in regrowth of cartilage in the joint (but this process is less reliable) (Treatment Options for Osteoarthritis in the Knee, 2017).
Mosaicplasty, a process where the cartilage from some other joint of body is used. But this process has size limitations (Medical News Today, 2017).
Autologous Chondrocyte Implantation, a treatment in which a small part of no-load bearing cartilage is removed from the joint of the patient by Arthroscopy, regrown and multiplied in the laboratory and then implanted back in the body by a procedure called arthrotomy. (Cartilage Repair, 2017) (Ahmed and Hincke, 2010) (Duthey, 2015).
Even though the Autologous Chondrocyte Implantation seems effective and easy, it has many disadvantages such as: –
The patient's cartilage sample must be removed by a medical procedure, marked/tagged and treated separately just like blood sample.
This treatment requires big Logistics and Supply Chain.
It requires a lot of time (approximately 6 weeks) for cells to multiply. Hence, till then the patient will suffer from pain (Peretti et al. 2000).
1.3 Proposed Treatment for Osteoarthritis: –
All these problems can be solved by Allogeneic Human Mesenchymal Stem Cell. For autologous transplant donor and receiver are same, whereas for allogeneic transplant, the donor and the receiver are different. The selection of the donor must be done carefully cause if the tissue type, i.e. HLA (Human Leukocyte Antigens) doesn't match, the patient's body will treat the transplanted organ or tissue as a foreign body. It might result in GVHD i.e. Graft Vs Host Disease. It is a fatal immune system response against stem cell transplant (Si et al. 2011).
Selection of donor for allogeneic transplant: –
Syngeneic (i.e. Twins) It is the perfect HLA match, but very few people have a twin.
HLA- matched relative (sibling) It is the second preferred option as HLA will be closely matched.
HLA-matched unrelated donor, it can be possible to find a donor whose HLA matches to the patient.
HLA-mismatched family member, even though the HLA doesn't match, it has great chance that patient's body may accept it.
Umbilical cord blood, stem cells retrieved during birth of the patient and preserved in a cell bank. It will be safest of all but stem cells must be available (Flomenberg et al. 2004).
Hence, allogeneic implant will make sure that the patient won't have to undergo two medical procedures, as seen in autologous chondrocyte implantation.
1.4 What are HMSC's?
HMSC means Human Mesenchymal Stem Cells. They are multipotent cells, which have the ability to transform into bone, muscle, fat or cartilage, etc. upon the proper simulation of providing environmental conditions in the laboratory. They have potential for regeneration (Si et al. 2011) (Li, L'Heureux and Elisseeff, 2011) (Wei, 2013).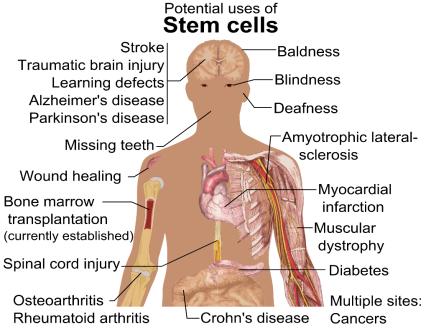 Figure No.4. Potential of MSC's
Image Source: – http://www.medicalnewstoday.com/articles/241215.php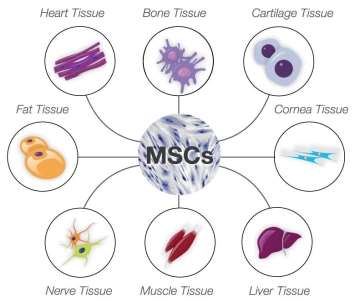 Figure No.5. Mesenchymal Stem Cells
Image Source: – http://www.cytopeutics.com/IntroductionOfStemCells.html
For knee restoration, cartilage cells are needed. Hence, the MSC's will be simulated for cartilage development. MSCs exists in almost all tissues. These cells can be easily obtained from bone marrow, adipose tissue, cord cells and molar cells, fetal liver, muscle, and lung (Ahmed and Hincke, 2014) (Si et al. 2011).
1.5 Product delivery to the Patient: –
For blood transfusion, the blood group and presence of Rh factor is checked and the matching blood is introduced into the body. Similarly, after checking the tissue (HLA) match, the best matching cells are chosen and regrown exponentially in the controlled environment of a laboratory. When the required number of cells, shape, and size is achieved, the cartilage is implanted into the patient via an open joint surgery named arthrotomy. This implanted cartilage will function exactly as that of the original cartilage. This cartilage will function properly for approximately 10 years (Ahmed and Hincke, 2010).
1.7 Functioning of the product in the patient's body: –
Since, the HLA was matched, and the cartilage is manufactured using MSC's which has the same functional properties and characteristics that of the original cartilage, the function of the joint will return to normal. There won't be any complication after the treatment and that graft will be accepted by the body as a part of it, it won't be treated as a foreign body.
MANUFACTURING FEASIBILITY REVIEW: –
2.1 Current Manufacturing Technology and Scope for Future: –
Currently, the knee restoration is done via other surgical procedures. But because of those procedures have many limitations and they give only temporary relief, allogeneic Mesenchymal Stem Cell therapy will replace them in the coming time. Mesenchymal Stem Cell therapy is currently under development. Various tests are being performed on them in the laboratory (Ahmed and Hincke, 2010).
First, the bone marrow or adipose tissue or cord sample is collected from the donor. Then the mesenchymal stem cells are separated out from other cells, such as fat or muscle by centrifugation or apheresis. These two density separation processes are feasible only for liquid. For the extraction from solid tissues, the slices of tissue are digested by the enzymes such as trypsin or collagenase. It breaks the bonding of cells i.e. the extracellular matrix (ECM) that holds the cells. Hence, the cell line is found (Li, L'Heureux and Elisseeff, 2011).
Get Help With Your Essay
If you need assistance with writing your essay, our professional essay writing service is here to help!
Essay Writing Service
Then the cells are harvested. During the cell culture process, there are various parameters that need to be monitored, little inconsistency will result in subnormal product or it might be just a waste of product. Temperature, humidity, oxygen, pH level of the cell culture reagent, nutrient supply and waste removal are the physical parameters and cell count and cell viability are the biological parameters that need to be monitored (Schwamb, Puskeiler and Wiedemann, 2015).
Once the desired number of cells is achieved, boundary for CMB (Condensed Mesenchymal Cell Bodies) is set. Then the cells are condensed to increase the seeding density as the cartilage requires higher seeding density. Then the fusion of the CMB happens. Now this fused CMB is pressurized against a porous decellularized bone matrix to create dense cellular region i.e. cartilage (Bhumiratana et al. 2014). As the knee joint is a mechanical tissue, physical stimulation is needed for its development. However, excessive stimulation can lead to cartilage damage (Ahmed and Hincke, 2010). Cartilage then sticks to the surface of that bone matrix and takes its shape while growing around it. Then it is removed from the bone matrix to implant into the knee joint of the patient (Bhumiratana et al. 2014).

Figure No.6. Condensed Mesenchymal Cell Bodies Fusion
Image Source: – http://www.pnas.org/content/111/19/6940.abstract
Currently, only culture plates and culture flasks are being used for allogeneic Mesenchymal Stem Cells as it is still in testing phase (Schwamb, Puskeiler, and Wiedemann, 2015).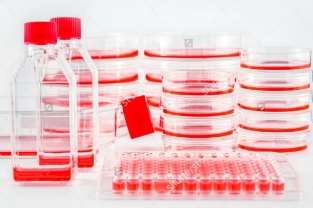 Figure No.7. Culture flasks and plates
Image Source: – https://www.shutterstock.com
But monitoring all these parameters becomes very hard when using flasks and plates. And the cells need to be shifted into bigger containers frequently. Also, flasks and plates are not useful for mass production because of size limitation and economic consideration. Hence, a device named bioreactor can replace them and still perform all those tasks efficiently.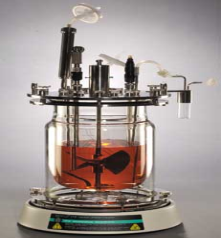 Figure No.8. Bioreactor for mass Cell Culture
Image Source: – http://www.bioc.rice.edu/bios576/nih_bioreactor/NDL_Bioreactor%20Page.html
It is a container which is feasible for both aerobic and anaerobic cell culture and can be used for suspended as well as immobilized cells (Sandhya Anand, 2017). It can be operated in batch, fed batch and continuous mode. As MSC's are surface anchorage dependent, the extra agitation or stirring might result in damage to the tissue. And the MSC's require oxygen to grow, so it will be an aerobic, immobilized, batch production bioreactor. (Martin, Wendt and Heberer, 2004) (Oragui, Nannaparaju and Khan, 2011).
2.2 Challenges in mass production of MSC's: –
Large scale in vitro expansion of MSC's is very complex because maintaining cells quality attributes such as identity, potency, purity and safety is extremely hard. It is hard to monitor that the cells are not undergoing any quality changes while expansion and harvesting.
Another challenge is obtaining required no of cells and their recovery.
MSC's are not suspension type, but anchorage dependent therefore the surface area for anchorage and proliferation must be taken into account.
As allogeneic treatments are supposed to be for a lot of people, hence the required no of cells must be extremely large.
There are 3 major and 3 minor types of HLAs in MHC Class I and 3 major and 2 minor types of HLAs in MHC Class II. So, there are lots of variants to manufacture and maintain for the cartilage manufacturer.
2.3 Clinical Demand for Dosage: –
Even though there are 250 million people suffering from Osteoarthritis and 3.6% of them are suffering from knee Osteoarthritis i.e. 9 million people. More than 600,000 knee replacements are performed each year in the United States alone (A Nation in Motion, 2017). In UK 160,000 knee replacement surgeries are performed every year (Joint replacement statistics, 2017).
As the cartilage manufactured in the laboratory exhibit almost similar properties that to the natural cartilage, it is expected to last approximately 50-60 years (i.e. Average human life) if there are no unexpected tragedies. Hence, once treated properly, the patient won't have to worry about the joint in his life again.
2.4 Supply Chain for Product: –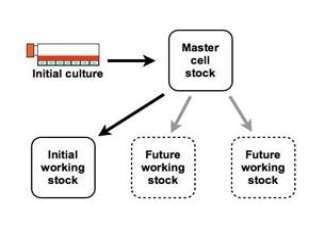 Figure No.9. Formation of Master Cell Bank
First the cell line is chosen for culturing, it can be a well-known cell line or a newly found cell line. After certain passages, when the desired number of cells is achieved, the Master Cell Bank will be established. In this case, many Master Cell Banks are needed as there are many types of tissues. Then one portion of master cell bank will be used for research purpose, i.e. the working cell bank and the rest will be cryopreserved for future use. Good manufacturing practice protocol should be followed during cell culturing.

Figure No.10. Clinical Process for Cell Culturing
The working cell bank will be used for manufacturing of cells for mass production after testing is performed. Several production runs (i.e. Passages) will be performed to obtain the required number of cells. Then the cells will be cryopreserved in central storage and distributed via local channels until there is a patient who needs them.
2.5 Risk Assessment: –
The main aim of risk assessment is to prevent transmission of diseases, and avoid harm to individuals and the environment. In many countries, the performance of risk assessment is a legal requirement. (University of Manitoba)
Risk

Impact

Probability of Occurrence

Mitigation Strategy

Tissue/cell origin

Rejection of Cells

Low

Thorough testing of cell line

Lack of Donor History

Transmission of Disease

Low

Choosing a donor carefully

Mismatch of HLA

Graft vs Host Disease

Intermediate

Careful matching of HLA

Environmental Changes

Change in cell Quality

High

Close monitoring of environmental conditions

Plasma Derived Material

Cell line contamination with unwanted cells

High

Proper filtration of MSC's

(Herberts, Kwa and Hermsen, 2011)
2.6 Biosafety Measure: –
Depending upon the as the product is human derived, Biosafety Level 2 practices, equipment and facilities are chosen. It is most suitable for clinical, diagnostic and teaching purposes.
Laboratory personnel must maintain hygiene while entering and exiting the lab. Decontaminated of potentially infectious material must be done before disposal, either by a disinfectant, or by autoclaving. Personal protective equipment is only required when there is a possibility of exposure to hazardous material. The laboratory must be isolated from the general building. Laboratory personnel must be trained in handling pathogenic agents. Access to the laboratory should be limited during the work. Certain procedures in which infectious aerosols or splashes may be created biological safety cabinets or other physical containment equipment should be used and the rest can be performed  on the open bench. Biosafety level 2 is suitable for indigenous moderate-risk agents. This includes various microbes that cause mild disease to humans, or are difficult to contract via aerosol in a lab setting, human derived blood, body fluid, tissues, or primary cell lines (Inc, 2017).
PROCESS MAP AND CELL GROWTH ANALYSIS: –
3.1 Process Map: –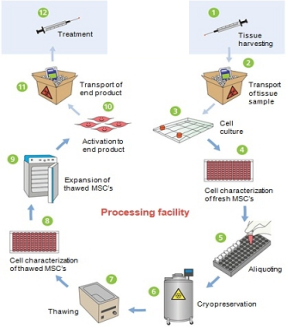 Figure No.11. Process Map for HMSC Therapy
Process Description: –
Cell lines are created/chosen for each type of tissue (HLA).
Shipping of the tissue sample to cell therapy processing facility.
HMSC isolation and culturing in culture chambers (manual production using culture flask or culture plate) or bioreactor is performed.
Fresh HMSC's are then tested for various parameters such as identity, potency, purity and safety, the modifications are done.
Aliquoting of HMSC samples (i.e. Master Cell Bank) is done.
Freezing and storage at -196 °C in Vapor Liquid Nitrogen (i.e. Cryopreservation) for future reference and use is done (Inc, 2017).
Cells are thawed i.e. their temperature is brought up to normal room temperature and further increased to 37 °C (Normal Body Temperature) for best cell growth result (Inc, 2017).
Cell characterization per release Criteria for Thawed HMSC's
Expansion of thawed HMSC's using an incubator and/or bioreactor for production.
Activation of HMSC's into final cell therapy product.
Shipping of final product to medical treatment centre.
Implantation of the cartilage into the patient by open joint surgery, i.e. arthrotomy (Harel, 2013).

Cell Growth Analysis: –
As there are many types of tissues (HLA), testing for all of them must be performed and validated. Hence, the whole process will be repeated several times for each type of cells.
Input Data: –
Desired seeding density= 1 million/ml
Duration of Passage= 72 hours
Doubling Time= 36 hours
Efficiency= 80% (Average efficiency)
Input Vial contains= 1.00E+09 cells
Dose per Patient= 1.00E+09 cells =1 vial of dose
Growth Rate= Ln (2) /Doubling Time= 0.019254
Seeding Density

1,000,000

Passage Duration

72

Doubling Time

36

Efficiency

0.8

Input Vial

1.00E+09

Growth Rate

0.019254

Phase 1

15

Patients

Flask

Dose Per Patient

1.00E+09

T25

MCB Creation

Real SA

Input

Ideal SA

Output

Note

T75

Thaw

1.00E+09

800.00

8.00E+08

All Flask of Same Size

T175

Passage 1

700

6.40E+08

2560.00

2.56E+09

4*T175

T500

Passage 2

2500

2.05E+09

8192.00

8.19E+09

5*T500

T650

Passage 3

7800

6.55E+09

26214.40

2.62E+10

6*T1300

T1300

Passage 4

26000

2.10E+10

83886.08

8.39E+10

1*T26000

T3250

T6500

T26000

MCB's Created

21.51

Equivalent Vials

83.89

Cells Per 5-Layer flask

3.90E+09
Phase 1

Real SA

Input

Ideal SA

Output

Note

Thaw

3.99E+09

3195.66

3.20E+09

Passage 1

3000

2.56E+09

10226.11

1.02E+10

6*T500

Passage 2

9100

8.18E+09

32723.56

3.27E+10

7*T1300

Dosages

3.27E+01

2.62E+01

For Phase 1 Testing
21 Master Cell Banks will be created in a 5-layer flask (T3250). It would be equivalent to the size of 83.89 input vials after 4 passages. From those 21 cell banks, 1 will be thawed and the rest will be cryopreserved. That 1 cell bank will be chosen as working cell bank and will be harvested for production.
During Phase 1, treating 30 patients will be the target. Hence, 30 vials of doses should be manufactured during phase one.
Every time 20% loss of cells is considered while changing the flask.

And During passages, exponential growth will take place. Formula for Exponential Growth is: –

The Ideal surface area is calculated by: –

Flask size was kept uniform during every passage. And Actual Surface Area was always chosen less than Ideal Surface Area to maintain the desired density and environment.
Flask of capacity 5-Layer was chosen for MCB creation.

Calculations for MCB,

Number of doses,

After successful testing of phase 1, phase 2 will begin where 300 patients will be treated. So, 300 vials of cells will be required.
PHASE 2

Real SA

Input

Ideal SA

Output

Note

Thaw

3.99E+09

3195.66

3.20E+09

Passage 1

3000

2.56E+09

10226.11

1.02E+10

6*T500

Passage 2

9100

8.18E+09

32723.56

3.27E+10

7*T1300

Passage 3

32500

2.62E+10

104715.39

1.05E+11

5*T6500

Passage 4

104000

8.38E+10

335089.26

3.35E+11

4*T26000

Dosages

3.35E+02

For Phase 2 Testing
After successful testing of phase 1 and phase 2, phase 3 will begin when mass production will start and 100s of 1000s of people will be treated with allogeneic HMSC derived cartilage.
PHASE 3

Real SA

Input

Ideal SA

Output

Note

Thaw

3.99E+09

3195.66

3.20E+09

Passage 1

3000

2.56E+09

10226.11

1.02E+10

6*T500

Passage 2

9100

8.18E+09

32723.56

3.27E+10

7*T1300

Passage 3

32500

2.62E+10

104715.39

1.05E+11

5*T6500

Passage 4

104000

8.38E+10

335089.26

3.35E+11

4*T26000

Passage 5

312000

2.68E+11

1072285.63

1.07E+12

12*T26000

Passage 6

1066000

8.58E+11

3431314.00

3.43E+12

41*T26000

Passage 7

3406000

2.75E+12

10980204.81

1.10E+13

131*T26000

Dosages

1.10E+04

For Phase 3
Since, there are 7 passages the process to manufacture 11000 vials will require approximately 25 (considered an extra time for changing flask) days. And at that rate 15 batches will be produced per year and approximately 165000 patients can be treated per year.
As there are 6 types of tissues (HLA) total number of patients treated will be 990000 approximately. It will be equivalent to 11% of global demand.
Using Bioreactor for Phase 3: –
Instead of using Culture flasks or plates, a bioreactor can be used for cell culturing. To check which of these two techniques will be more efficient, all the parameters are kept same. And total time of 7 passages will be considered as one passage time for bioreactor.
Passage Duration

504

Doubling Time

36

PHASE

Cite This Work

To export a reference to this article please select a referencing stye below:

Reference Copied to Clipboard.

Reference Copied to Clipboard.

Reference Copied to Clipboard.

Reference Copied to Clipboard.

Reference Copied to Clipboard.

Reference Copied to Clipboard.

Reference Copied to Clipboard.

DMCA / Removal Request

If you are the original writer of this essay and no longer wish to have your work published on UKEssays.com then please:

Related Services

Our academic writing and marking services can help you!

Related Lectures

Study for free with our range of university lectures!

Freelance Writing Jobs

Looking for a flexible role?
Do you have a 2:1 degree or higher?

Apply Today!

Study Resources

Free resources to assist you with your university studies!