Hemodialysis Patients in EMRO Countries and the Middle East
Published: Last Edited:
Disclaimer: This essay has been submitted by a student. This is not an example of the work written by our professional essay writers. You can view samples of our professional work here.
Any opinions, findings, conclusions or recommendations expressed in this material are those of the authors and do not necessarily reflect the views of UK Essays.
Hepatitis B Infection in Hemodialysis Patients in EMRO Countries and the Middle East: A Systematic Review and Meta-Analysis
Ahmad Tavakoli1, 2, Mohsen Moghoofei2, Shayan Mostafaei3, Hadi Ghaffari2, Khashayar Hesamizadeh1, 4, Heidar Sharafi1, 4, Seyed Hamidreza Monavari2, Seyed Moayed Alavian1,4*
1 Baqiyatallah Research Center for Gastroenterology and Liver Diseases, Baqiyatallah University of Medical Sciences, Tehran, IR Iran
Running Title: HBV infection in hemodialysis patients
Abstract:
Keywords: Hepatitis B; hemodialysis; Middle East; EMRO;Meta-Analysis
Introduction
Hemodialysis is a technique that has been widely used in the treatment of patients with chronic renal failure. In 2013, more than 2 million people in the world and 25,000 people in Iran were reported to have undergone hemodialysis. Patients on hemodialysis are more prone to acquiring some blood borne infections such as HBV than the members of general population that is owing to repeated blood transfusions, frequent hospitalizations, sharing of dialysis machines, repeated needle insertions, breaching of skin and their underlying impaired cellular immunity.
For patients on hemodialysis, HBV infection is considered an exceptional threat, and clinical course and natural history of HBV infection in this group of patients are different from non-dialysis patients. HBV infection remains a major global health problem, as it can cause serious complications, including acute and chronic hepatitis, cirrhosis, hepatocellular carcinoma and hepatic failure. Prevalence of HBV infection is less than HCV in hemodialysis units. In the past, HBV has led to major outbreaks with horizontal viral transmission in hemodialysis unit patients and staff. Several surveys examined the prevalence of HBV in hemodialysis patients; however, the reported values is highly variable in different countries. The results of most studies demonstrated that the incidence of HBV infection in hemodialysis patients has decreased substantially in recent years that can be resulted from implementation of HBV vaccination in high-risk groups.
Despite advances in the field in developed countries, HBV infection remains highly prevalent in dialysis units of many developing countries. In addition to being at greater risk of acquiring HBV infection, it has been suggested that hemodialysis patients are more prone to become chronic carriers of HBV in comparison with the general population. So, procedures for the control of hepatitis B infection must be strictly introduced in all dialysis units.
To date, several studies have been performed on prevalence of HBV infection in hemodialysis patients from EMRO (The Eastern Mediterranean Regional office of the World Health organization) and the Middle East countries. Nevertheless, there is no overall estimation of the infection in these regions. In the present systematic review and meta-analysis, we have assessed the available evidences related to relative frequency (RF) of HBV infection among hemodialysis patients from EMRO countries and the Middle East.
Methodology
Search strategy
We searched PubMed, ISI Web of Science, MEDLINE and Scopus (up to February 2017) databases by using the following keywords: "Hepatitis B", "Hemodialysis", "Iran", "EMRO countries" and "Middle East" (Table 1). In addition to English articles, two Persian scientific search engines including "The Iranian Scientific Information Database" (www.sid.ir) and "Barakat Knowledge Network System" (www.barakatkns.com) were searched as well for relevant articles. Also reference lists of all related studies were reviewed for any other related publication. Our search was restricted to the original articles/abstracts published in English and Persian which reported the prevalence of Hepatitis B virus by Enzyme Immunoassay (EIA) in Iran.
Inclusion criteria:
Included studies (English and Persian) used in this meta-analysis and systematic review must meet the following criteria:
A) Hepatitis B virus samples (Blood) were collected from the hemodialysis patients in EMRO countries and the Middle East
B) Studies which involved hemodialysis patients
C) Assays such as EIA, because it is approved and accepted laboratory methods for HBV.
Exclusion criteria:
Articles were excluded from this review if:
A) Samples were selected from HBV and were archived before
B) Studies which used other methods
C) Studies which reported occult HBV infection (OBI)
D) Congress abstracts, review articles, case report articles and studies reported in languages other than English or Persian, meta-analysis or systematic reviews and duplicate publication of the same study (or published both in English and Persian) were also excluded; with the exception of duplicate studied in which more sample size and more detailed results were provided.
Data collection:
From all of studies, the author's name, publication date, sample size, study setting, mean age, the RF of HBV, research location and risk factors were extracted. Data were extracted from studies based on title, abstract and keywords by two researchers, independently. Disagreements were resolved by consensus of the whole team in both phases.
Assessment of Quality Studies:
We used checklist and diagram of the PRISMA, then critical appraisal has been done with STROB form. PRISMA and STROB can also be used as a basis for reporting systematic reviews of other types of research; STROB particularly evaluated the prevalence for any outcome. Items related to study type, sample size, research objectives, population and inclusion/exclusion criteria for primary research, method of analysis and appropriate presentation of results were determined and a score was assigned to each item. One score was assigned to each question and studies achieved at least eight quality scores were considered eligible for final Meta-analysis.
Statistical Analysis:
The numbers of total participants with HBV were used to estimate the relative frequency (RF) which was then converted to log RF and its Standard Error (SE) for the meta-analysis. Additionally, the Freeman-Tukey Double arcsine transformation of relative frequencies to calculate a pooled relative frequency (1). The heterogeneity and the variation in pooled estimation were assessed by using Cochran's Q test and I-squared, respectively (2). The pooled relative frequency of HBV was derived by a random effect model while the I2 index is more than to 50% and other wise this pooled prevalence was derived by a fixed effect model. Meta-regression was used to examine the relationship between RF of HBV and year and country of publication, studies's sample size with cause of heterogeneity of results (3). Finally, the sub-group analysis was used among area and year of publication (before 2005 vs. after of 2005). Sensitivity analysis was done by successively removing a particular study or group of studies (if any) that had the highest impact on the heterogeneity test. Publication bias was checked by Egger's regression asymmetry test and Begg's adjusted rank correlation test (4). All statistical analyses were performed using STATA 11.0 (STATA Corp, College Station, TX) and P-values under 0.05 were considered statistically significant.
Results
A total of 9114 articles were retrieved by the database search. Summary of the literature search and study selection showed in Figure 1. In a primary screening process, 4321 of the publications were excluded due to duplication. In the secondary screening process, 4512 of the publications were excluded based on title and abstract evaluation, and 281 articles were retained for detailed full-text evaluation. After full-text evaluation, 37 articles (abstract with full-text articles) describing the prevalence of Hepatitis B infection in EMRO and Middle East countries were selected for the present study in order for are indicated in Table 2. All studies that we investigate the samples include Hepatitis B infectious specimens that take from patients and hospitalized patient in male/female and overages. As it is clear; most of the studies were conducted in central and west of Iran followed by the south. Figure 2 shows the forest plot and results of Meta-Analysis for the pooled estimation of the prevalence with 95% confidence interval.
The status of HBV in EMRO and Middle East countries is represented in theTable 2. By the using random-effects model, the pooled prevalence of Hepatitis B infection was found to be 4.4% (95% confidence interval (CI): 8.1-8.5%) (Figure.2). However, the evident heterogeneity of HBV HBV-RF was observed among studies (Cochran Q test, p value= 0.001,

). Although a slight asymmetry was seen in the funnel plot, this was not confirmed by statistical tests (P-value=0.447 for Begg rank correlation analysis; P-value=0.625 for Egger weighted regression analysis).
Sensitivity analysis was performed by sequential omission of individual studies. The combined RFs of the prevalence rate of HBV from sequential omission were not altered after omission, indicating that our results were statistically robust (Figure 3).
Discussion
Hemodialysis patients are considered at increased risk of acquiring HBV infection. Prolonged vascular access and multiple blood transfusions during hemodialysis may play an important role in increased susceptibility to acquiring the infection. It was shown that incomplete adherence to standard and specific infection control precautions are the most important cause of person-to-person transmission of HBV in hemodialysis setting. Immunosuppressive condition is another characteristic in patients underlying hemodialysis which increases their susceptibility to infectious diseases like HBV infection.
HBV infection still remains a major concern among patients on hemodialysis due to its association with an increased risk of hepatic complications, decrease the chances of successful kidney transplantation, hepatic inflammation, prominent fibrosis, and considerable morbidity and mortality. According to the present study, an overall prevalence of 4.4% of HBV infection was reported among hemodialysis patients in the Middle-East and EMRO countries. Based on results of previous studies, the rate of HBV infection in patients on hemodialysis in developed countries was low (1%), while in developing countries the prevalence was higher (2- 20%). One interesting finding of our study was that the overall prevalence of HBV infection in hemodialysis patients is decreasing over the years, which can be explained by several different reasons, as will be discussed below.
The results of current study revealed that the prevalence of HBV infection in hemodialysis units varies across different countries, alongside wide variation among dialysis centers even within the regions of single countries. For instance, it is obvious that the HBV prevalence varies in different parts of Iran, with 1.2% reported from Isfahan (central of Iran), 2.1% in Mazandaran (North of Iran), 6.7% in Bushehr (South of Iran) and 3.2% in Tabriz (North-West of Iran). According to the previous study by Alavian et al., the prevalence of HBV infection in hemodialysis patients in Iran had a downward trend from 3.8% in 1999 to 2.6% in 2006, and our study has reported similar rate of HBsAg positivity with previous survey (2.9%). It is possible that mandatory implementation of screening blood donors for HBsAg in Iran since 1974 and erythropoietin administration instead of frequent transfusions have led to decrease of HBV infection prevalence in hemodialysis patients. Similar to Iran, studies in Turkey have shown a downward trend in the rates of HBV infection among hemodialysis patients from 11.1% in 1997 to 4.4% in the present study. This can be due to the mandatory precautions taken by the Turkish Ministry of Health (TMH) such as isolation of HBsAg-positive hemodialysis patients in a separate room, applications of the standardized infection control protocols in hemodialysis centers, strict surveillance and vaccination of the susceptible patients. Other countries such as Yemen (14.8%), Pakistan (9.1%), Saudi Arabia (6.7%), Jordan (6.6%), and Palestine (5.1%) represented higher prevalence although the number of surveys seems to be not sufficient in these countries. According to the only survey in Khartoum, Sudan, the prevalence of HBsAg (4.5%) was higher than the other EMRO countries and the Middle East. Also regarding the latest meta-analysis performed in china, the pooled prevalence of HBV infection among hemodialysis patients in China was 11.9%. This can be explained with the fact that the sub-Saharan Africa and East Asia have the highest HBV prevalence worldwide in general population, where between 5-10% of the population is chronically infected.
Prior to routine screening of blood and blood products for HBsAg at blood centers, blood transfusion was considered as a one of the most effective modes of transmission of the HBV. Due to receiving frequent transfusion therapy to treat nephrogenic anemia resulted from kidney disturbance, hemodialysis patients are particularly predisposed to HBV infection. Recombinant human erythropoietin has been successfully used for more than two decades to treat anemia caused by chronic kidney disease in hemodialysis patients to reduce the need for frequent transfusions. As a result, the risk of HBV infection due to transfusion significantly has decreased, which is consistent with our findings. On the other hand, since 1982, the Centers for Disease Control and Prevention (CDC) has recommended hepatitis B vaccination in patients on hemodialysis. The reported conversion rate to HBV vaccine in hemodialysis patients varies from 50% to 80% in the different studies. As another explanation, HBV vaccination has led to a significant decrease in annual incidence of HBV infection in hemodialysis patients.
In conclusion, the results of our meta-analysis of 37 studies showed that the overall HBV prevalence rate among hemodialysis patients in EMRO countries and the Middle East was 4% which is decreasing over the years. Generally, prevalence of HBV infection in general population, quality health care services, and infection control preventive measures in hemodialysis centers are considered as key factors which may determine the prevalence of HBV in hemodialysis units. However, it should be noted that our results can be affected by several factors due to insufficient data on Middle East and EMRO countries resulted from small number of surveys and low or inadequate geographical coverage of studies. Some countries such as UAE, Syria, Qatar, Kuwait, Israel, Cyprus, Tunisia and Afghanistan had no published data on the prevalence of HBV infection among hemodialysis patients. Moreover, the number of studies is limited in countries such as Oman, Lebanon, Egypt, and Iraq, with only one study assessing. Thus, conducting updated studies in these regions are highly recommended.
Conflict of interest:
The authors confirm that this article content has no conflicts of interest.
Acknowledgments:
None declared.
Tables:
Search strategy in PubMed/Medline
("Hepatitis B"[MeSH Terms]) AND ("Hemodialysis" [MeSH Terms]) AND ("Iran"[MeSH Terms]) AND (" EMRO Countries "[MeSH Terms]) AND ("Middle East "[MeSH Terms]) ( Filters: Publication date from 1970/01/01 to 2016/12/30)
Table 1: Search strategy
Table 2: Characteristics of studies included in the systematic review and meta-analysis
Ref

Techniques For HBV Detection

Number of Cases

Total Sample Size

Location of Study

Year of Publication

Year of Study

Study

ELISA

5

108

Saudi Arabia

1989

1987

Atif

ELISA

13

102

Oman

1994

1991

Al-Dhahary

ELISA

183

1229

Yemen

2002

1997-1999

Haidar

ELISA

448

6694

Saudi Arabia

2001

2000

Souqiyyeh

ELISA

6

51

Yemen

2006

2001-2002

Badheeb

ELISA

11

115

Saudi Arabia

2004

-

Almawi

ELISA

8

119

Bushehr

2011

2004-2005

Mostaghni

ELISA

64

2630

Tehran

2009

2005

Mahdavimazdeh

ELISA

11

214

Khuzestan

2009

2005-2006

Assarehzadegan

ELISA

25

427

Jordan

2008

2006

Hijazat

ELISA

2309

33950

Turkey

2006

2006

EREK

ELISA

5

163

Guilan

2009

2007

Mansour-Ghanaei

ELISA

20

246

Palestine

2010

2007

El-Ottol

ELISA

11

167

Urmia

2008

-

Khameneh

ELISA

1318

29283

Turkey

2008

2008

SERDENGEÇT‹

ELISA

14

1000

Egypt

2011

2008-2009

Moustafa Zayed

ELISA

6

195

Qazvin

2011

2009

Hamissi

ELISA

7

514

Guilan

2011

2009

Joukar

ELISA

16

228

Kerman

2012

2010

Zahedi

ELISA

13

185

Karaj

2015

2010

Tajbakhsh

ELISA

90

2382

Libya

2012

2009-2010

Alashek

ELISA

16

353

Sudan

2012

2010

Gasim

ELISA

13

70

Iraq

2013

2010

Amen

ELISA

124

1220

Pakistan

2011

2009-2010

Idrees

ELISA

6

499

Isfahan

2012

2010-2011

Kalantari

ELISA

1434

34469

Turkey

2011

2011

SÜLEYMANLAR

ELISA

13

412

Tabriz

2012

-

Etemadi

ELISA

1543

48900

Turkey

2012

2012

SÜLEYMANLAR

ELISA

60

3769

Lebanon

2016

2010-2012

Rached

ELISA

4

189

Pakistan

2014

2012-2013

Mahmud

ELISA

2113

52675

Turkey

2013

2013

SÜLEYMANLAR

ELISA

17

252

Palestine

2016

2013

Badareen

ELISA

50

712

Jordan

2015

2014

Ghazzawi

ELISA

33

868

Palestine

2016

2014

Al Zabadi

ELISA

32

1347

Turkey

2016

2014

Kizilates

ELISA

10

282

Mazandaran

2016

2012-2014

Hasanjani Roushan

ELISA

1

103

Tehran

2015

-

Aminianfar
Characteristics

Categories

No. of Studies

Pooled Prevalence

(95% C.I)

Heterogeneity test

()

All Studies

-

37

0.044 (0.044-0.045)

(97.2%; P-value<0.001)

Year of Publication

≤2005

8

0.067 (0.062-0.071)

(97.4%; P-value<0.001)

>2006

29

0.043 (0.042-0.044)

(97.2%; P-value<0.001)

Area

Jordan

2

0.066 (0.051-0.080)

(0.0%; P-value=0.43)

Palestine

3

0.051 (0.040-0.063)

(75.6%; P-value=0.02)

Saudi Arabia

3

0.067 (0.061-0.073)

(0.0%; P-value=0.42)

Pakistan

2

0.091 (0.076-0.106)

(97.8%; P-value<0.001)

Yemen

2

0.148 (0.128-0.167)

(0.0%; P-value=0.49)

Iran

13

0.029 (0.025-0.033)

(75.2%; P-value<0.001)

Turkey

6

0.044 (0.043-0.045)

(99.2%; P-value<0.001)
Table 3: Subgroup Analysis of area and year of publication.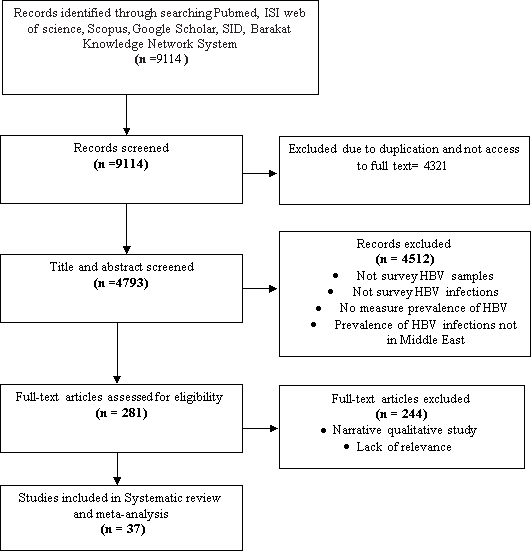 Figures: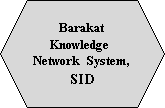 Figure 1: Flow diagram for study selection progress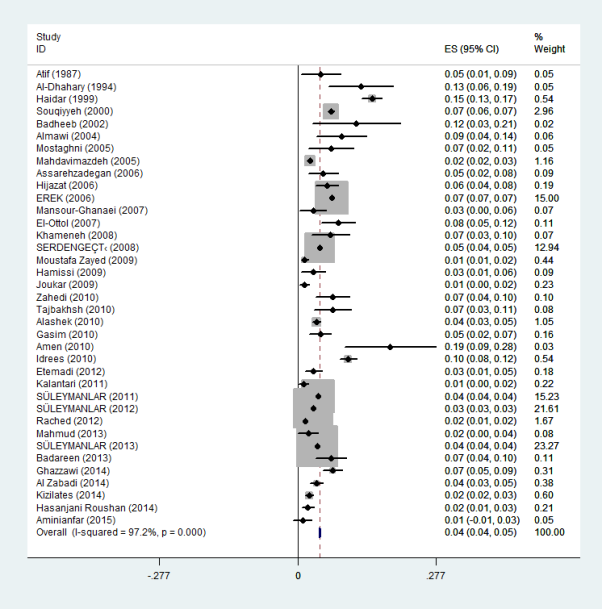 Figure 2: Results of Meta-Analysis for pooled prevalence with 95% CI and its forest plot.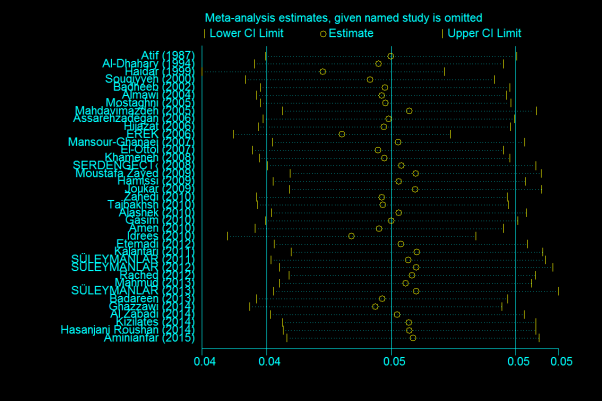 Figure 3: Influence or sensitivity plot
---
Cite This Essay
To export a reference to this article please select a referencing stye below:
Reference Copied to Clipboard.
Reference Copied to Clipboard.
Reference Copied to Clipboard.
Reference Copied to Clipboard.
Reference Copied to Clipboard.
Reference Copied to Clipboard.
Reference Copied to Clipboard.