Sustainability Analysis of BP Shipping
| | |
| --- | --- |
| ✅ Paper Type: Free Essay | ✅ Subject: Marketing |
| ✅ Wordcount: 1702 words | ✅ Published: 7th Sep 2017 |
Introduction
A shipping company has different impacts on the society and the Earth. In 1986, Gubbins suggested that the service function of a shipping company is the transportation of surplus merchandises to fill the gaps between trading nations. The BP Shipping as a shipping company manages the hydrocarbon transportation activities across the world's oceans (bp.com, 2016). Due to the growing efficiency coupled with the expanded trade liberalization, this company like other shipping companies has had a strong growth (Ics-shipping.org, 2016). This company provides a huge employment as currently it has around 1,300 seafarers (bp.com, 2015). Further, compared to other companies, the BP Shipping is not only one of the least costly, but also is one the greenest and the least environmentally damaging companies (Leal-Arcas, 2013). Nevertheless, the BP Shipping has several environmental impacts including air pollution, ocean dumping, oil spill, sewage discharge and invasive species. Therefore, since with the current situations the Earth cannot sustain us or its carrying capability for humanity ad infinitum (McDonagh and Prothero, 2014), the sustainability as a megatrend should be addressed in this company (Lubin& Esty, 2010).
Sustainability
Sustainability has three dimensions, known as The Triple Bottom Line (TBL), which are social, economic and environmental (Henriques and Richardson, 2004). The World Commission on Environment and Development (WCED, 1987) through the Bruntland Report defined sustainable development as "development that meets the needs of the present without compromising the ability of future generations to meet their own needs". The TBL and sustainable development can be seen in the following figure.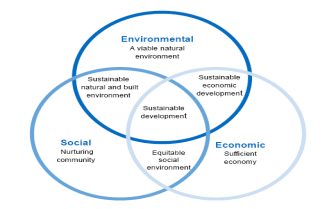 Sustainable marketing focuses on achieving the 'triple bottom line' to deliver solutions to human needs that are environmentally oriented, moral, viable, and relationship based (Beltz and Peattie, 2012).Therefore, the triple bottom line in the BP Shipping will be analyzed.
Environmental aspect
This aspect focuses on targets and usage of natural resources and energy, waste management and recycling, greenhouse emissions and biodiversity (Bals and Tate, 2016).
Ways to reduce the environmental impacts of the BP Shipping
Manage the greenhouse gas emissions through operational energy efficiency; noting that the shipping sector is responsible for 3% of greenhouse gas emissions (Jean-Vasile, 2013).
Consider carbon cost in investment appraisals and the engineering design of new projects.
Transfer to low Sulphur and cleaner fuel.
Exhaust after-treatment technology (use of Selective Catalytic Reduction combined with a PM filter and an oxidation catalyst) (Han, 2010).
Reduce ship speed.
Use of land-based power when a ship is in a dry-dock.
Manage the oil spills via externally approved oil spill response/contingency plans.
Train the seafarers on both prevention and response to pollution incidents.
Reduce the noise produced by ships as a potential threat to migratory species by improving the design and engine of the ships.
Recycle and manage the garbage and wastes; recycle the ship itself.
Manage the ballast water which transfers the invasive species.
Social aspect
Social sustainability means to meet the human needs within the limits set by the conditions for ecological sustainability (Lopez, 2008). To assess this aspect, there are elements including education, health and well-being, equity and access to social resources, social capital, and quality of life which should be considered (Thiel, 2016).
Elements of social aspect in the BP Shipping
Ships of the company are the sources of employment for over a thousand seafarers from different nationalities. In addition to seafarers, the company creates jobs for people in the ports to give services to its ships and provides opportunities for local suppliers.
The seafarers who run the ships will be trained for different aspects of the job.
In addition to health insurance and pension plans, the P&I clubs protect the seafarers.
Ships help the growth of nations' economies which lead to social welfare.
Since some of the oil and gas suppliers, like some countries in Africa, has the populations with the high level of poverty (Marín, 2015), this company has a key role in reducing poverty.
Economic aspect
The aim of this aspect is to improve a healthy economy in order to produce the resources to meet people's demands (Ecifm.rdg.ac.uk, 2016). To evaluate this aspect, elements such as income or expenditures, taxes, structure of the economy, business climate factors, employment, Life expectancy, and business diversity factors should be considered (Ibrc.indiana.edu, 2016).
Elements of economic aspect in the BP Shipping
The BP Shipping by providing both ship based jobs and shore based jobs has a direct contribution to employment. Since a part of wages paid to employees will be spent on retail and leisure outlets, this company stimulates economic activity in the two areas.
This company supports the gross value added contribution to the UK's GDP.
It contributes to nation's Exchequer through a combination of direct and indirect taxes.
The company's expenditures on inputs of services and goods affect the economy of local suppliers. (Oxford economics, 2015)
Conclusion
To conclude, the BP Shipping which has more than one thousand seafarers from different nationalities is responsible for transportation of oil and gas products between different nations. To assist this company to optimize the function of delivering its offerings and services, sustainability marketing focuses on reaching different aspects of sustainability namely social, economic, and environmental by delivering sustainable solutions while constantly satisfying the stakeholders. Regarding environmental aspect, in addition to technology, alternative energy resources and more sustainable operations and logistics are needed to solve the environmental issues (J. Corbett and Winebrake, 2008).With regards to the social aspect, the company by transporting the hydrocarbon products plays a key role in improving the social welfare and reducing the poverty (Marín, 2015). Considering the economic aspects, the company supports employment, gross value added and tax revenues via direct, indirect and induced channels (Oxford economics, 2015).
Bibliography
Bals, L. and Tate, W. (2016). Implementing triple bottom line sustainability into global supply chains. 1st ed. Sheffield, UK: Greenleaf.
Belz, F-M. and Peattie, K. (2012) Sustainability marketing, a global perspective. John Wiley & Sons, Ltd.
bp.com. (2015). BP Shipping celebrates 100 years of maritime success. [online] Available at: http://www.bp.com/en/global/corporate/press/press-releases/bp-shipping-celebrates-100-years-of-maritime-success.html [Accessed 20 Jan. 2017].
bp.com. (2016). About BP Shipping. [online] Available at: http://www.bp.com/en/global/bp-shipping/about-bp-shipping.html [Accessed 20 Jan. 2017].
Ecifm.rdg.ac.uk. (2016). Sustainability Indicators. [online] Available at: http://www.ecifm.rdg.ac.uk/inofsd.htm [Accessed 8 Jan. 2017].
Gubbins, E. (1986). The shipping industry. 1st ed. New York u.a.: Gordon and Breach, p.1.
Han, C. (2010). Strategies to Reduce Air Pollution in Shipping Industry. The Asian Journal of Shipping and Logistics, 26(1), pp.7-29.
Henriques, A. and Richardson, J. (2004). The triple bottom line, does it all add up?. London: Earthscan.
Ibrc.indiana.edu. (2016). The Triple Bottom Line: What Is It and How Does It Work?. [online] Available at: http://www.ibrc.indiana.edu/ibr/2011/spring/article2.html [Accessed 9 Jan. 2017].
Ics-shipping.org.(a) (2016). ICS | Shipping and World Trade. [online] Available at: http://www.ics-shipping.org/shipping-facts/shipping-and-world-trade [Accessed 4 Jan. 2017].
J. Corbett, J. and Winebrake, J. (2008). The Impacts of Globalisation on International Maritime Transport Activity. 1st ed. Guadalajara, Mexico: Global Forum on Transport and Environment in a Globalising World, p.21.
Jean-Vasile, A. (2013). Sustainable technologies, policies, and constraints in the green economy. 1st ed. Hershey, PA: Information Science Reference, p.277.
Leal-Arcas, R. (2013). Climate Change and International Trade. 1st ed. Cheltenham: Edward Elgar Publishing, p.172.
Lopez, R. (2008). Progress in sustainable development research. New York: Nova Science Publishers.
Lubin, D. A., & Esty, D. C. (2010). The sustainability imperative. Harvard Business Review, 88 (5), 42-50.
Marín, M. (2015). Impact of logistics and shipping in the sustainable development of societies. journal of marine technology and environment, universitat politècnica de catalunya, spain.
McDonagh, P. and Prothero, A. (2014). Sustainability marketing research: past, present and future. Journal of Marketing Management, 30(11-12), pp.1186-1219.
Oxford economics, (2015). The economic impact of the UK Maritime Services Sector: Shipping. pp.2-5.
Thiel, M. (2016). The social domain in CSR and sustainability. New York: Routledge.
Cite This Work
To export a reference to this article please select a referencing stye below:
Reference Copied to Clipboard.
Reference Copied to Clipboard.
Reference Copied to Clipboard.
Reference Copied to Clipboard.
Reference Copied to Clipboard.
Reference Copied to Clipboard.
Reference Copied to Clipboard.
DMCA / Removal Request
If you are the original writer of this essay and no longer wish to have your work published on UKEssays.com then please: