Disclaimer: This work has been submitted by a student. This is not an example of the work produced by our essay writing service.
You can view samples of our professional work here.
Any opinions, findings, conclusions or recommendations expressed in this material are those of the authors and do not necessarily reflect the views of UK Essays.
After working 5 weeks at Lyle industries, found that human recourse management can continue to contribute to company's success by ensuring training and development of employees, manage employee Relations and performance management, performing job analysis and design, managing selection, recruiting and compensation of staff. Successful implementation of these practices contributes to a company's success.
The qualities associated with human recourses that help Lyle industries gain a sustainable competitive advantage are the following: 
Human resources are valuable as efficient and highly performing employees perform many critical functions
Human resources are rare as highly experienced, skilled and knowledgeable people or workers are not common and some positions in a company may remain unfilled for months.
Human resources cannot be imitated. As first the competitor has figure out what the employee is bringing to the table and then try to look for and hire a person that can do precisely the same thing.
Human recourses have no good substitutes. When employees are well trained, experienced and motivated then it is nearly impossible to find a replacement whether as a person or as a recourse.
The ultimate goal is to develop high-performance work systems to give an edge in competitive environment.   
Lyle industries is considering opening a new location, aspects of HR management that I would like to entrust to specialist will be training and development of employees along with HR planning as these are the most fundamental practices of HR management, also assuming that the staff at these locations will be newly hired. An HR specialist skills are required to create training and skill development plans for the employees so as to get the unit up and running and to develop processes, tasks and goals following HR planning.
In order to save costs and develop future capacity, some other HR practices of managing employee relations and performance management [in consultation with managers] should be assigned to general HR staff present at the new location. Recruitment, selection and compensation should be managed by the HR staff at the headquarter [main location]. Responsibilities for job analysis and design can initially be collaborated by the HR staff at new and main locations.
ADA requires employers including Lyle industries to make reasonable accommodations for individuals with disabilities. The act protects such individuals from being discriminated against in the hiring process and at the work place. Though in jobs like that of firefighters and law enforcement officers which contribute or control public safety and rely upon physical strength and reflexes, it will become increasingly difficult. Especially considering the structure of a first-responder organization where the officers might not be capable of performing job duties in an emergency.
Though at the same time people with disabilities can be accommodated in desk jobs where their special needs would not impede job functionality. Applicants should be asked to prove their ability to perform the duties they applied to. For instance, an individual with a below waist injury or disability can work as a clerk [desk job] in the department. Another instance, a police officer suffering from diabetes can still be asked to work in low-stress neighborhood and be supported to improve his/her health. I will advise that ADA should only be used to make accommodations and help those who have proven ability to satisfy the job functions, in case of a miss-match disabled person could be accommodated towards a more suitable job or work.
Work Flow Analysis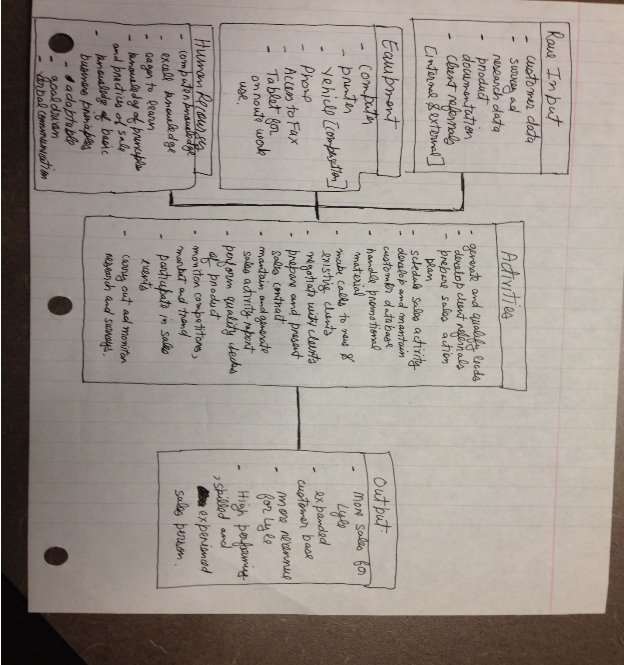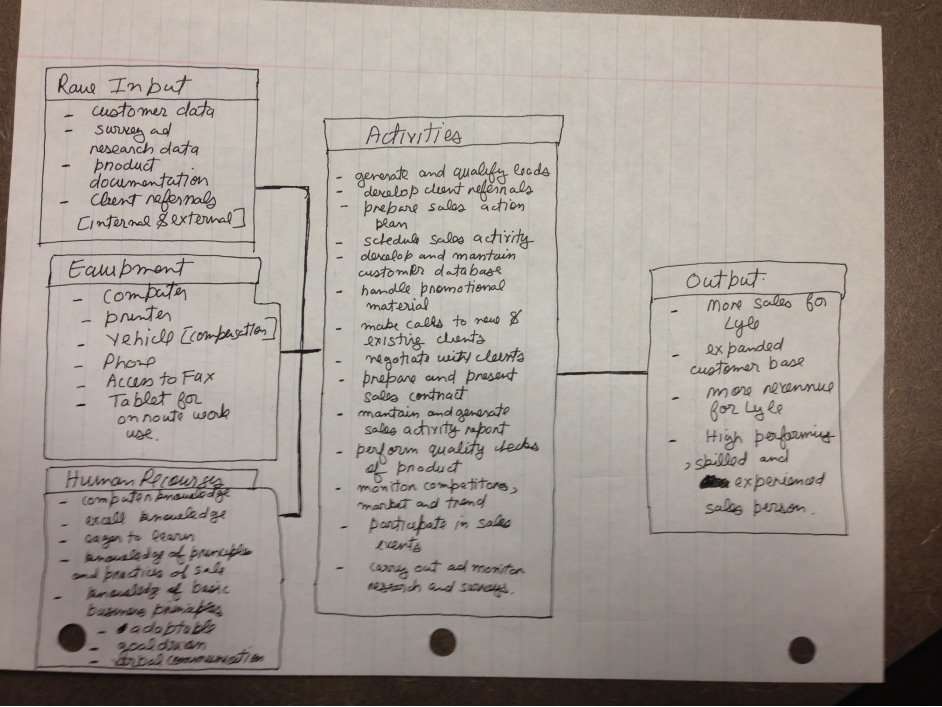 Tasks and Responsibilities
generate and qualify leads, develop client referrals, prepare sales action plans and strategies, schedule sales activity, develop and maintain a customer database, plan and conduct direct marketing activities, make sales calls to new and existing clients, develop sales proposals, prepare and present sales contracts, negotiate with clients, maintain sales activity records and prepare sales reports, customer service satisfaction, perform quality checks on product and service delivery, carry out market research and surveys, monitor competitors, market conditions and product development
Skills and Abilities
knowledge of relevant computer application, principles and practices of sales, customer service principles, basic business principles, sales and presentation, persuasive, organized, adaptable, verbal and written communication, negotiation skills and goal driven
Brief for Executive [VP]
Lyle Industries will benefit from higher generated sales with expanded customer base and more revenue.
High performing, skilled and experienced sales people can provide us a competitive advantage vis-à-vis our competitors.
Integration of electronic databases and computer based integration and reporting services will enhance pace of Sales activities and process multiple times.
Employee will be able to generate and qualify leads along with client referrals on the fly with use of tablets on their sales route.
Sales action plan can be created, sales activity be scheduled, their reports maintained and generated
Markets trends, situations and competitor activity can be monitored to sustain Lyle's advantage
Research and surveys can be carried out and monitored.
Based upon the forecast of labor supply and demand, have discovered a 15% labor shortage for material handlers. The second step in human recourse planning is goal setting and strategic planning. The purpose of setting specific numerical goals is to focus attention on the problem and provide a basis for measuring success. The planning stage is significant as various options differ widely in expense, speed and effectiveness. Therefore, choosing the right strategies can help an organization save costs, help sustain competitive advantage and so on. For instance, addressing material handler shortages may involve multiple strategies such as paying currently employed workers overtime, hiring new workers including temporary workers with less to no experience, restrain transfers and reduce turnovers.  They all come with certain risks, as paying overtime and hiring temporary worker strategy will prove to be faster and easier to change but may not be as effective [short term] whereas restrained transfers and turnover reduction strategies will be slow and relatively harder to change and finally, new full-time hiring will be slow and hardest to change though will be most effective. Another thing to consider is that material handling in this digital era have become a core competency [take example of Amazon]. As time-saved and efficiency from moving around the products and preparing shipments of cat food or toys at Lyle can lead to higher volumes and more business, this will translate into lower prices for the customer.
The 5 steps of selection process of hiring competent material handlers will be:
Screening application forms and resumes
Forms if needed will be designed to ask for contact information, work experience, educational background, criminal background and applicant's signature
Physical ability testing and Medical examination
Check for hand-eye coordination, muscular endurance, cardiovascular endurance, flexibility and balance, etc.
Interviewing Candidates:
Mix of structured and situational or behavior description (BDI) questions
Checking references and background
Making the selection and communicating to the selected candidates as well as to those who did not make through.   
Cite This Work
To export a reference to this article please select a referencing stye below:
Reference Copied to Clipboard.
Reference Copied to Clipboard.
Reference Copied to Clipboard.
Reference Copied to Clipboard.
Reference Copied to Clipboard.
Reference Copied to Clipboard.
Reference Copied to Clipboard.
Featured review
"Thank you UK Essays for your timely assistance. It has helped me to push forward with my thesis."
DMCA / Removal Request
If you are the original writer of this essay and no longer wish to have the essay published on the UK Essays website then please.