Cloning the Putative Cancer Suppressor Gene GALNT9
744 words (3 pages) Essay
11th Jun 2018 Biology Reference this
Tags:
Disclaimer: This work has been submitted by a university student. This is not an example of the work produced by our Essay Writing Service. You can view samples of our professional work here.
Any opinions, findings, conclusions or recommendations expressed in this material are those of the authors and do not necessarily reflect the views of UKEssays.com.
Introduction
The aim of this project is to clone the putative cancer suppressor gene GALNT9, it is a follow on from research by (pangeni et al. 2015) who previously found that this gene isn't expressed in breast cancers that metastasise to the brain. It was also discovered that when GALNT9 was knocked out of 'normal cells' they appeared to become more cancerous. What is being tested here is whether a cloned GALNT9 can be expressed in cells that do not naturally express it in order to prevent or inhibit the development of cancer.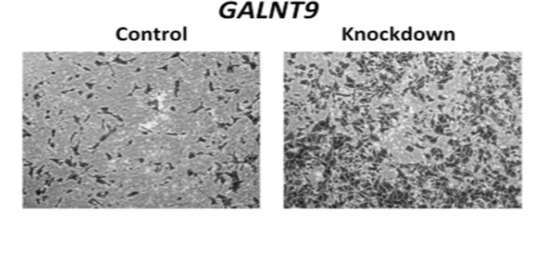 This is an important discovery in the development of cancer therapies and preventative measures because metastasis is the single most common cause of cancer-related death. It also should be noted that metastatic breast cancer is commonly found in the brain, which is a guaranteed killer. It is interesting that breast cancers do metastasise in the way because of the complex and well-protected channels that must be used to enter the brain. This suggests that the metastasis occurs for a reason and that the cancerous cells have been developed specifically to metastasise to the brain.    
Literature review
A cells physiology is maintained by complex dynamic processes that control overall gene expression in the intracellular molecular pathways. cancer progression and metastasis can be caused by the induction of redirected gene regulatory circuits which is often caused by cytogenetic mutations however can also be initiated by non-genetic factors including trauma. Some of these non-genetic factors that can cause cancerisation are mutations in epithelial-mesenchymal interactions. When the extracellular matrix increases in stiffness, there appears to be an increase in cell transformation and in cancer cell invasion (Feller, Khammissa, and Lemmer, 2017).
Metastasis is the dissemination of neoplastic cancer cells to a secondary site or organ separate from the primary site. For example, if one is diagnosed with breast cancer which then spreads to the brain, this is known as a metastatic growth. Cancer of the brain that has spread in this manner is called metastatic breast cancer as opposed to brain cancer. Metastasis is the single most common cancer-related cause of death. The complex process of metastasis is the least known aspect of cancer biology and research into it is highly current and relevant. There are different oncogenes, tumour suppressor genes (TMGs) and metastasis suppressor genes (MSGs) that can inhibit the metastatic potential and invasive ability of cancerous cells (Efferth, 2009).
Metastasis suppressor genes (MSGs) are proteins or molecules that are grouped into this class of genes so based on their ability to influence and suppress metastasis. Little is known about these genes; however, it is known that they come from a range of different biological pathways (Yoshida, 2000). At the site of metastasis – or the secondary site – MSGs regulate the growth of tumours. There are over 30 confirmed MSGs although their individual functionality has not necessarily been confirmed. For example,  Triple negative breast cancer (TNBC) is a type of cancer that is diagnosed by the expression of certain MSGs. The patients of this cancer often show a reduced expression of Raf kinase inhibitory protein (RKIP) which inhibits the invasive characteristics of a tumour (Frankenberger et al., 2015).
It is known that different MSGs target different stages in the metastatic cascade, an interesting and potentially therapeutic find is that some MSGs promote dormancy at the secondary site. MSGs have little or no effect on the primary site however, metastasis frequently occurs before primary resection therefore if the cells are moving to a secondary site as dormant cells, there is an eliminated risk. Research into cloning these MSGs is ongoing with the intention that a successfully cloned MSG may have the capacity to suppress metastasis from a different part of the body. Questions are also being raised as to whether these MSGs can be expressed in a foreign environment and whether a previously active tumour can be returned to a dormant state (Murugaesu et al., 2012).   
Cite This Work
To export a reference to this article please select a referencing stye below:
Reference Copied to Clipboard.
Reference Copied to Clipboard.
Reference Copied to Clipboard.
Reference Copied to Clipboard.
Reference Copied to Clipboard.
Reference Copied to Clipboard.
Reference Copied to Clipboard.
DMCA / Removal Request
If you are the original writer of this essay and no longer wish to have your work published on the UKDiss.com website then please: