Gibbs' Reflective Cycle
Gibbs' Model of Reflection is commonly used in education, healthcare and psychology. You can find a full description of Gibbs' Reflective Cycle along with both student and professionally written examples in this guide.
We have a number of expertly written examples of reflective essays here.
What is Gibbs' Reflective Cycle?

Introduction to Critical Reflection
Central to the development of reflective theory was interest in the integration of theory and practice, the cyclic pattern of experience and the conscious application of lessons learned from experience. Since the 1970s, there has been a growing literature and focus around experiential learning and the development and application of reflective practice.
As adult education professor David Boud and his colleagues explained: "Reflection is an important human activity in which people recapture their experience, think about it, mull it over and evaluate it. It is this working with experience that is important in learning." When a person is experiencing something, he or she may be implicitly learning; however, it can be difficult to put emotions, events, and thoughts into a coherent sequence of events. When a person rethinks or retells events, it is possible to categorize events, emotions, ideas, etc., and to compare the intended purpose of a past action with the results of the action. Stepping back from the action permits critical reflection on a sequence of events.
Gibbs' Reflective Cycle Flow Chart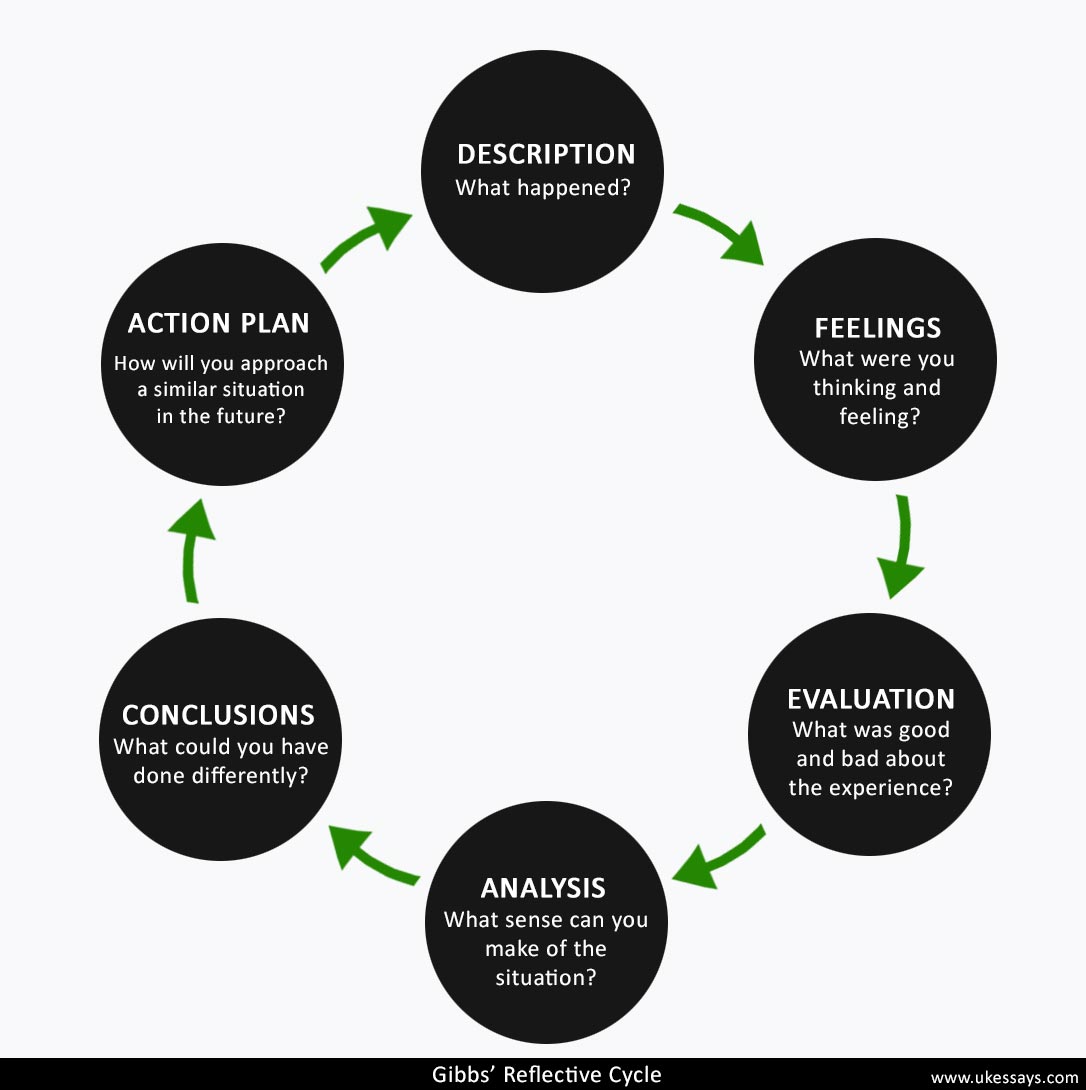 The 6 Stages of Gibbs' Reflective Cycle
1. Description
A description of the events that took place or "What happened?"
2. Feelings
What were your reactions and feelings to the situation?
3. Evaluation
Evaluate both the good and bad points of your experience
4. Analysis
What sense if any can you make from the situation? What ideas from your outside knowledge can you apply to this analysis. try to ascertain what was actually going on and not just how you felt about the situation. Look at difference and similarities in other people's perception of the situation.
5. Conclusions (general and specific)
What can be concluded about your specific situation or the way that you worked?
6. Personal Action Plan
This section is used to outline the steps you are going to take to apply what you have learnt from your experience and how you would approach a similar situation in the future.
Get Help with Your Reflective Essay
To see how we can help you learn the skills required to write critical reflections, take a look at our critical reflection writing service:
Find out more
Critical Reflection FAQs

Question: Why is Gibbs a good reflective model?
Answer: Gibbs' Reflective Cycle has proven to be a good model of reflection due to its clear and precise nature. Gibbs' Model of Reflection is now the most common type of reflection used in the education system, particularly within healthcare and education.
Question: How do you start a reflective essay?
Answer: When writing a reflective essay using Gibbs' Reflective Cycle the essay starts with a detailed explanation of experience or event that is being reflected upon. This may typically be a patient encounter or a description of a particular placement.
Question: What does a reflective essay mean?
Answer: The purpose of a reflective essay is to provide insight into a particular event or situation. By reflecting upon the details of the event, a practitioner or student can learn from the experience considering all the various factors that led to a particular outcome. For areas such as nursing it is not adequate to simply learn from experience, the experience must be analysed and reflected upon so that positive and negative elements of an experience can be used to improve future interactions.